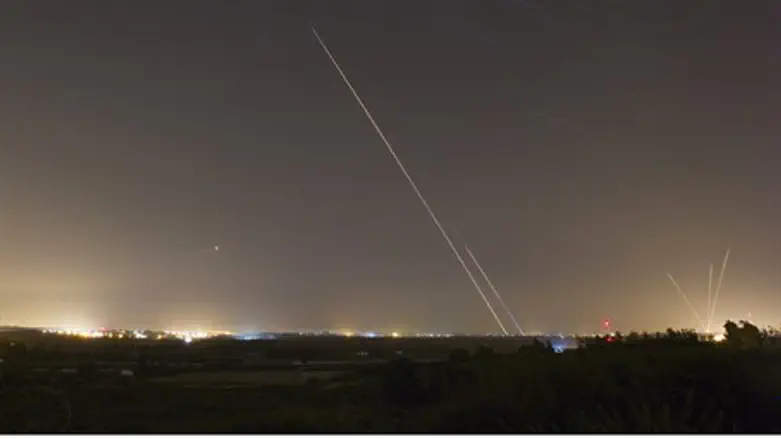 Rockets fired from Gaza
Reuters
Southern Israel came under a massive rocket attack just before midnight on Sunday night.
"Moments ago, four rockets were fired at Ashkelon from Gaza," said the IDF Spokesperson's Unit on Twitter.
Four rockets were intercepted by the Iron Dome anti-missile system over the city of Kiryat Malachi.
Sirens were also heard in the Eshkol Region of southern Israel and in Beit Guvrin, near Kiryat Gat.
There were no reported injuries or damages in any of the attacks. The IDF noted that over the last 24 hours, terrorists have fired 135 rockets at Israel.
Earlier on Sunday evening, Jerusalem came under rocket fire as well. "Color red" rocket sirens were heard in Beit Shemesh and several communities in the Jerusalem Hills, including Abu Gosh and Nave Ilan, as well as communities adjacent to Jerusalem such as Ora, Aminadav and Tzur Hadassah.
At least one rocket reportedly was shot down by the Iron Dome anti-missile defense system in the Jerusalem Hills region. Residents of Jerusalem report hearing several loud booms from the distance, indicating that the attack consisted of several missiles.
Hamas's rocket war has been continuing at full intensity, with figures on Sunday indicating over 570 rockets have been fired over the past five days; over 100 rockets were fired on Sunday alone.
In the early afternoon a salvo of roughly 13 mortar shells was fired according to Hamas, wounding five Israelis, two of them critically.