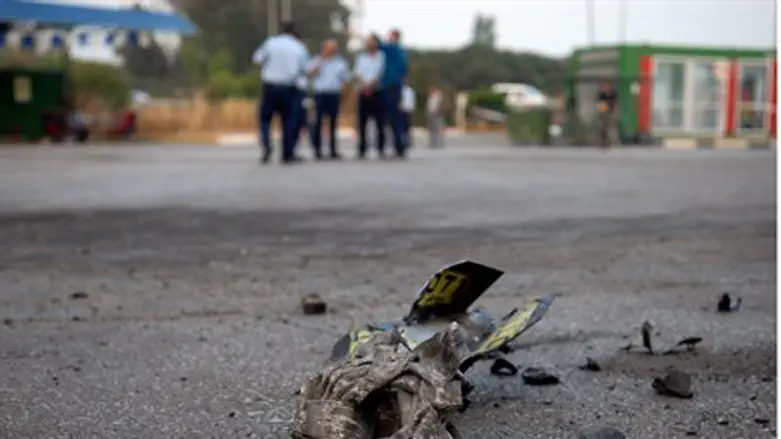 Shrapnel (illustrative)
Flash90
A salvo of rockets landed close to a packed Israeli kindergarten in the south on Friday, breaking the calm after a relatively quiet night. 
A five-rocket salvo saw the Iron Dome intercept two rockets over Ashkelon. Three rockets struck the western Negev; one of them landed just 12 meters (roughly feet) from a packed kindergarten. Luckily, all children and staff are safe; the building was protected from rocket fire and all of the occupants were in safe areas. 
Earlier on Friday, a 54 year-old man in Be'er Sheva was moderately wounded by shrapnel from a three-rocket salvo on the southern capital. Local power outages have also been reported in the area and at least one car was hit by shrapnel. 
Earlier Friday, an additional salvo was fired at the Ashkelon Regional Council, near the Gaza Belt, and in the Negev, but there are no injuries nor damage reported. 
The near-miss follows Education Minister Shai Piron's assertion Thursday that the school year would continue as usual, despite the ongoing rocket fire on civilians. 
"The school year will begin as planned. We are prepared for any security-related occurrences," the MK explained. "During the first two weeks of the school year, the education system will not be occupied with regular teaching, but rather with activities to dissipate the tensions and with discussions surrounding the events of the summer, including the arousal and demonstration of racism and incitement."
The Ashklelon and Be'er Sheva Regional Councils have all pledged to ignore Piron's statement, according to Walla! News, citing security concerns and potential psychological toll on the area's children.  
This is the third time a rocket has struck near a school. The previous rocket strike wounded a 33 year-old man on Thursday, as he heroically was protecting children from the missile with his own body. 
Later on Friday, two rockets were intercepted over Sderot.