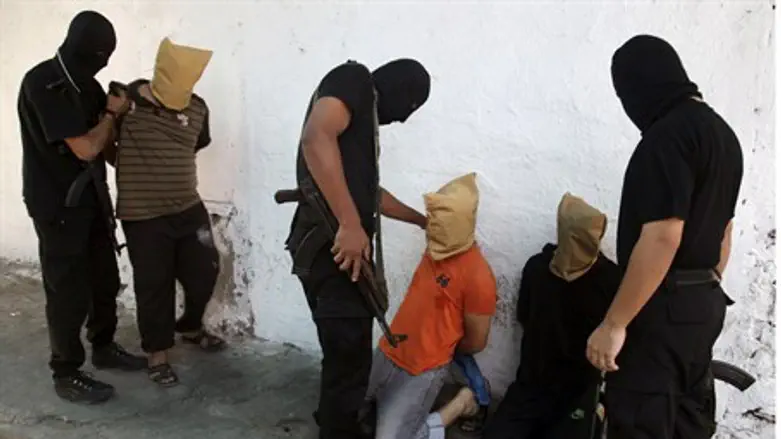 Hamas gunmen prepare three men for execution
Reuters
The Hamas regime in Gaza continues to execute its own civilians, even while engaged in a bloody war against Israel.
In a central venue in Gaza City on Friday morning, 11 local Arab residents who were charged with "collaborating with Israel" were publicly executed by Hamas, according to the Arabic-language Al-Rai news agency.
However, Hamas TV reported that the number of those executed was actually as high as 18 men. Six of those executed were shot dead in front of a mosque by men in Hamas military uniforms, witnesses told AFP.
The public killing comes in the midst of a rising wave of "collaborator" executions in the terrorist stronghold of Gaza.
Majd, a website close to Hamas, just on Thursday reported that Hamas's "military wing," the Ezzedine Al-Qassam Brigades, executed three Gaza residents and arrested seven others for "collaborating" with Israel during Operation Protective Edge.
No date was given for the executions or arrests, but the Hamas security official quoted in the report said the three were killed after "revolutionary procedures" were completed against them.
The same website reported on August 6 that "a number" of Arab collaborators had been killed, again without giving a date.
In the last week of July, Palestinian sources reported that over 30 Gazans were executed by Hamas, most of them in the Shejaiya neighborhood. In that case too, Hamas claimed that they were collaborators with Israel.
A Hamas spokesperson recently told Al Jazeera that since Operation Pillar of Defense ended in 2012, "hundreds of our men were martyred digging the tunnels during the previous lull period."
Many of those who survived digging the terror tunnels did not meet a better end than their "martyred" companions; according to reports, in recent weeks Hamas has executed dozens of the diggers to make absolutely certain they would not reveal information about the locations in which they were digging.
Of the hundreds who died in the digging, "at least 160 children have been killed in the tunnels" according to the Journal of Palestine Studies in 2012, indicating how Hamas had no qualms about lethally manipulating child labor.