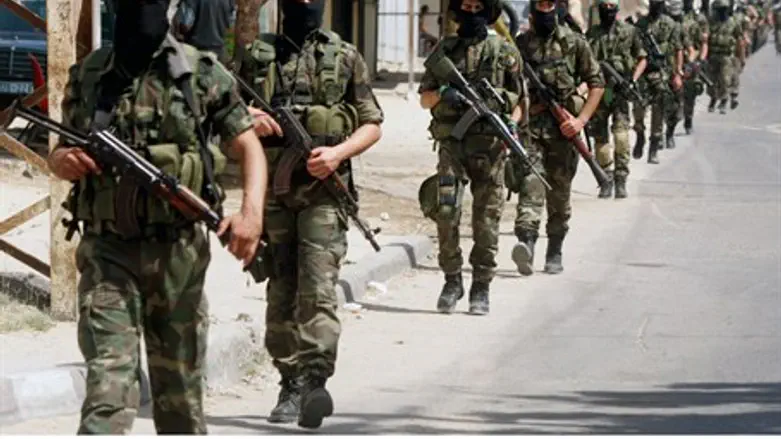 Hamas terrorists in Gaza (file)
Flash 90
The armed wing of Hamas has executed three Palestinian Arabs and arrested seven others for allegedly collaborating with Israel during the Gaza war, a website close to the movement reported Thursday.
The Majd website quoted a senior security official in the enclave as saying seven people had been arrested on suspicion of scoping out targets for Israel and that three others had been shot dead. The official said that the three were killed after "revolutionary procedures" were completed against them.
No date was given for the executions or the arrests.
The site added that zero tolerance would be shown to those collaborating with Israel.
The same website reported on August 6 that "a number" of Palestinian Arab collaborators had been killed, again without giving a date.
On July 13, witnesses in the southern city of Rafah reported seeing gunmen kill a man in the middle of the street in another incident which appeared to be the execution of a suspected collaborator.
Israel and Hamas have been at war since July 8 in a conflict that has killed 2,075 Palestinians and 67 on the Israeli side.
Under Palestinian law, collaborating with Israel, murder and drug trafficking are punishable by death.
In May, Hamas announced the execution of two men accused of being collaborators, saying they had been executed in accordance with the law.
Hamas has controlled the Gaza Strip since winning elections in the enclave in 2007. Although it handed the reins of power to a Ramallah-based administration in early June, it remains the de facto power in Gaza.