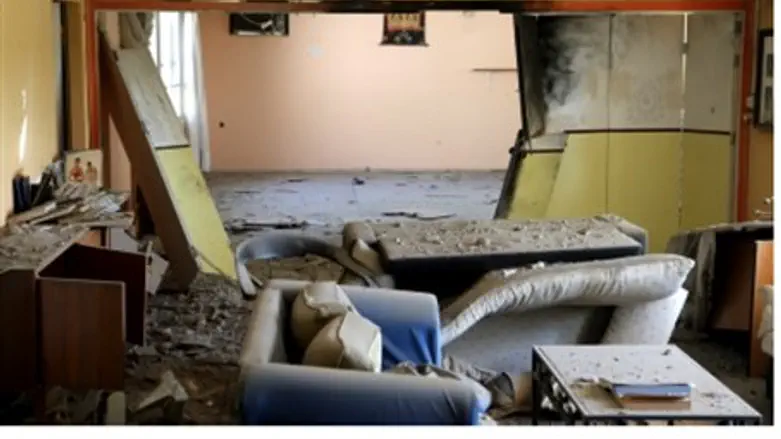 Kindergarten hit, 21.8.14
Flash 90
A man who was seriously wounded by a Hamas rocket Thursday had been shielding children with his own body.
The attack took place at about 10:20 a.m., at one of the communities in the Eshkol region.
Magen David Adom (MDA) crews gave initial treatment to the man, who is 33. He was seriously wounded by shrapnel that struck his chest.
MDA paramedic Oren Vacht, who treated the man before his evacuation to hospital, described him as having been hit in the chest by a shell fragment, "fully conscious and in great pain."
"Civilians who had been at the scene told us that he did not make it to the protected space in time, and was hurt by shrapnel when he lay down on children who were near him, to protect them with his body," Vacht said.
Hamas terrorists fired a barrage of rockets Thursday at the Eshkol region, which borders on Gaza. One hit a cowshed, killing several cows, and the other struck a kindergarten in the same community, which was empty because of the summer vacation.
The direct hit in the kindergarten and the incident involving the man who shielded children with his body are apparently two separate incidents, in different communities. Some reports apparently connected the two events by mistake.
Thursday morning's salvo included some 13 rockets, all aimed at southern towns bordering Gaza.