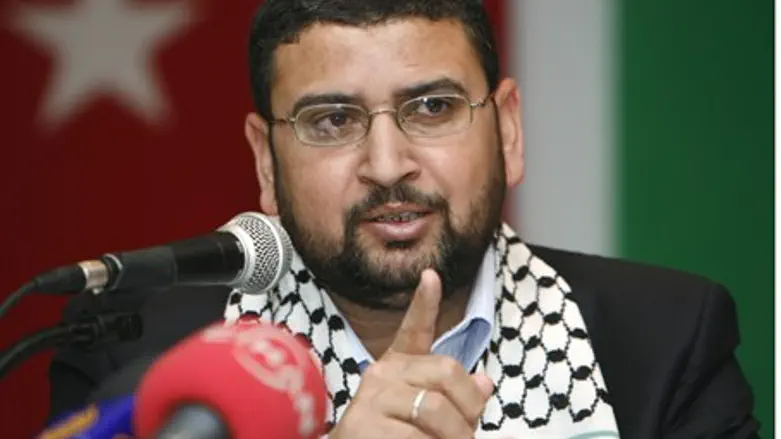 Hamas spokesman Sami Abu-Zuhri
Reuters
Hamas spokesman Sami Abu Zuhri has accused Israel of "stalling" ceasefire talks in Cairo, hours before an extension of a temporary truce was due to expire. 
"Israel is responsible for the stagnation of ongoing negotiations in Cairo," he claimed Tuesday. "It's dragging its feet and shows no desire to reach an agreement." 
Hamas's comments surfaced at roughly the same time as at least three rockets were fired on Israel in breach of the temporary ceasefire currently in effect, including two near Be'er Sheva and one near Netivot. The IDF has been preparing for a possible escalation again with Hamas, following a five-day ceasefire which was extended at the last minute on Sunday night. 
The announcement of the extension came several hours after the Ma'an news agency reported that the two teams to Cairo ceasefire talks have signed their initials to a permanent ceasefire agreement.
Confusion has reigned over the talk's progress, however; while Israeli officials have denied both that any substantial developments have been made or that major concessions have been made to Hamas over a potential truce, Palestinian sources have claimed "major developments" in the talks' progress. 
Meanwhile, Hamas has remained stubborn over its demands - including lifting all transport and import restrictions in Gaza.
"The fifth day of the ceasefire and the negotiations between the resistance and the Zionist enemy ends today," Hamas's exiled deputy leader Mussa Abu Marzouk wrote on Facebook shortly before the talks began. "No positive results until now. Everything will be decided on the ground."