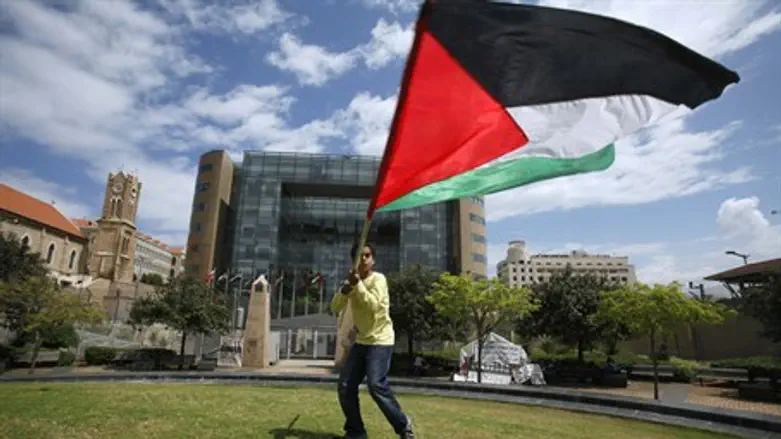 PA flag (illustrative)
Reuters
Six hundred Americans have decided to boycott Glasgow - but this time, the move is in support and solidarity for Israel. 
A Fortune 500 company was due to bring the American delegation into the city - as well as thousands of dollars of tourist revenue - as a reward for the salesmen and women and their spouses, according to the Scottish Express.
However, the Vice President of the corporation, Richard Cassini, cancelled the trip entirely after Glasgow's city council decided to fly Palestine Liberation Organization (PLO, or the terror umbrella group behind the Palestinian Authority) flags in "solidarity with the people of Gaza." 
"I was, until I read the article in the Scottish Express, and substantiated by the press all over the world, spearheading an event in Glasgow for 600 business visitors to be guests of your wonderful city," Cassini wrote to Glasgow's Lord Provost, Sadie Docherty. "We were scheduling six days in Glasgow, three for business and three for leisure time." 
"Having read your statement endorsing Hamas and its leadership due to the number of Muslims in your city, I have decided to cancel all plans for our trip," he continued. "We are a Fortune 500 Company, so costs were really not a serious consideration, location was."
"Hopefully, the Muslim population that you so sincerely endorse will have the spending power of the very people you have chased away so well," he concluded. 
Over 1,500 emails and calls have been sent to the Glasgow City Council over the move, according to a spokeswoman, and the council claims that a delay in responses is due to the need to respond to each complaint individually. 
But Cassini has taken Docherty to task for not responding to the move, several days after the trip was cancelled, and sent her a follow-up email firing, "It appears that being Provost of a wonderful city such as Glasgow does not require the holder of said title to have any manners, or upbringing whatsoever." 
Councilor Archie Graham eventually responded, stating that "Glasgow utterly abhors and rejects any forms of discrimination, including anti-Semitism and Islamophobia."
However, silence continues from Docherty herself, who elected to fly the flag on August 8. Glasgow is "twinned" with the PA city of Bethlehem. 
"Glasgow is home to many friends of Palestine and this is a deeply distressing time for them," Docherty said at the time. "They represent a variety of ethnicities, political persuasions, faiths and none. However they are united by a common desire to support the Palestinian people."
"In solidarity with Bethlehem and Palestine, Glasgow City Council will raise the Palestinian flag on Friday 8th August," she continued. "We hope that peace can be found to ensure the human rights for the people of Palestine."
Jewish leaders condemned the gesture, with Jewish Representative Council President Paul Morron saying that "flying the flag is the worst kind of gesture politics" and noting that it "does nothing to alleviate the suffering on either side of the conflict."