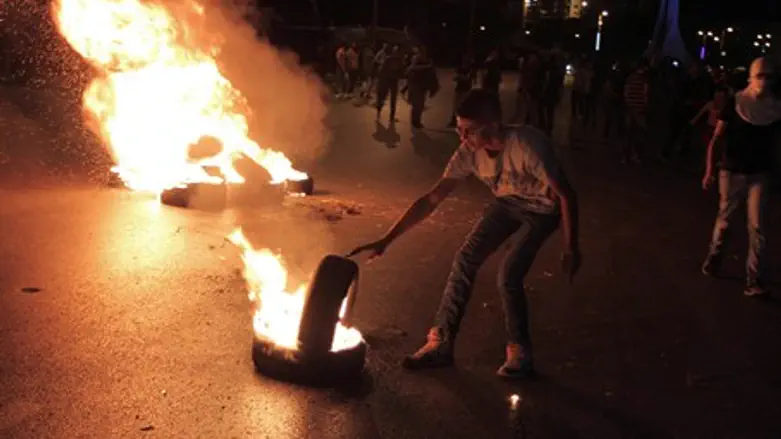 Rioters burn tires during clashes with IDF ne
Flash 90
Six wanted Arab terrorists were arrested in Judea and Samaria overnight Thursday/Friday, according to IDF sources. 
Four of them were arrested in Deir Istiya, southeast of Qalqilya, and another Hamas terrorist was arrested in Beit Ummar, southwest of Bethlehem. They were interrogated by security forces. 
In addition, Duvdevan special forces apprehended a Hamas member in the Aida "refugee camp" in Bethlehem.
The suspect evaded arrest, causing IDF forces to open fire, wounding him. The man was transferred to a hospital for treatment and later interrogated by security forces. 
Arrests in Judea-Samaria have increased over the past week, as security forces crack down on terrorism following calls to begin a third intifada in the region. 
The crackdown has paid off; during a wave of twelve arrests overnight Tuesday/Wednesday, the IDF arrested a Hamas terrorist in Kafr Samoa, south of Hevron, who was actively planning a terror attack against the IDF and Israeli civilians.
On Sunday night, security forces killed a Fatah terrorist during a joint operation of the IDF and Border Police undercover unit, south of Shechem (Nablus), after he resisted arrest and opened fire on the soldiers, forcing the IDF to return fire.
Preparatory measures for 'Day of Rage'?
At least part of the IDF crackdown can be attributed to Hamas's repeated calls for a third intifada over the past several months - a call which surfaced again late this week. 
On Thursday night, Hamas called on Palestinian Arabs throughout Judea-Samaria to participate in mass demonstrations on Friday supporting Gaza in light of Israel's self-defense operation, Operation Protective Edge.
A procession of terrorist and militant forces are expected to participate in a major demonstration in Ramallah on Friday after morning prayers, under the banner "We are outraged for you, Gaza Strip!"
In Hevron, a march will take place under the title "We are all Gaza"; additional marches are taking place in Bethlehem, Shechem (Nablus), Qalqiliya, and Tul-Karem. 
Past demonstrations have featured not only blatant incitement to violence, but also chaotic rioting, and often clashes with IDF forces.