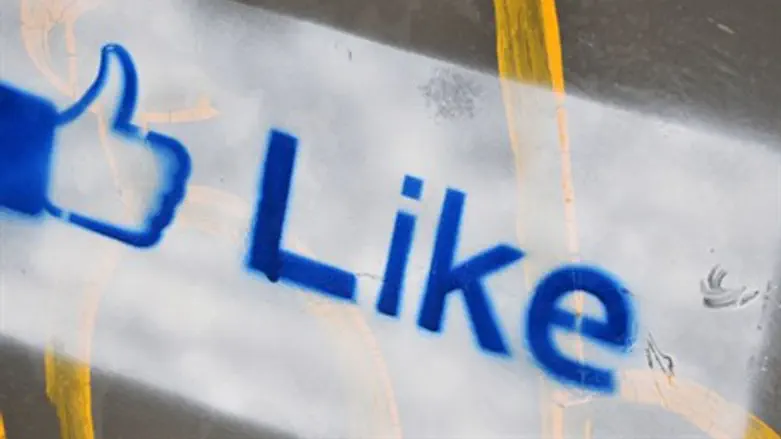 Facebook "like" (illustration)
Flash 90
Police in the Muslim-majority country of Malaysia are investigating a Malaysian teenager for "sedition," after he "liked" a pro-Israel Facebook post.
The 17-year-old student in the northern state of Penang "liked" a post that read "I love Israel," and featured a picture of the Jewish state's flag, Penang police chief Abdul Rahim Hanafi was quoted as saying Wednesday by Malaysian media.
Abdul Rahim said that under the harsh police crackdown, the student claimed to accidentally clicking "like." Sedition charges can hold a three-year jail sentence in the Muslim-majority nation.
On the other hand, police also are investigating death threats made against the student. In response to the threatening backlash, he has deactivated his Facebook account.
The crackdown on the student comes as inaccurate reporting over Operation Protective Edge in Gaza has led to a dramatic increase in anti-Semitism worldwide, with anti-Semitic incidents in July rising 383% compared to the same month last year according to a recent study.
Osman Hussain, Penang's state director of education, told AFP on Thursday that he would seek to resolve the incident without police involvement. Speaking about the student, he remarked "he is just a student. I will try to solve the issue peacefully."
The police crackdown has been met with some criticism online, with one reader posting on the popular local news portal Malaysiakini that "using the same twisted logic, all Malaysians using Facebook are also committing sedition as Facebook is founded by a Jew."
Apparently such a move may not be too far off.
Malaysian Communication Minister Datuk Seri Ahmad Shabery Cheek triggered harsh online criticism recently when he said authorities would "study" whether to block Facebook, after a posting appeared that was deemed insulting to Malaysia's Islamic royalty.
Malaysia, which has no diplomatic relations with Israel, has a record of prohibiting free speech; just recently the country banned the usage of the word "Allah," which is simply the equivalent of "G-d" in the Malay language, for all non-Muslims.
The country also has been used as a terror training ground, as revealed last month when a senior Hamas commander captured in Gaza confessed to having been sent to Malaysia for paragliding training, in an effort to develop skills to infiltrate Israel and conduct an attack.