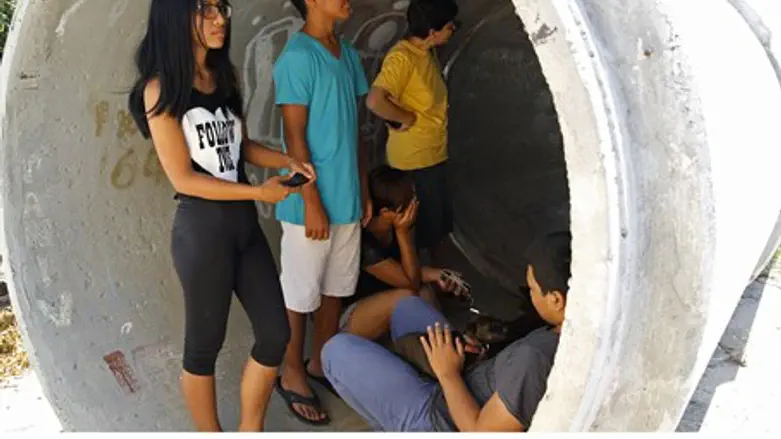 Taking cover from rocket fire (file)
Reuters
Hamas already breached the last 72-hour ceasefire three hours ahead of its conclusion Wednesday at midnight; on Thursday morning concerns were raised that it already had broken the newly achieved five-day ceasefire as well.
Rocket warning sirens were sounded just after 10 a.m. on Thursday in the Eshkol Regional Council and Hof Ashkelon region, as well in the Kerem Shalom area. Shortly afterwards reports surfaced that a rocket fell in open ground in the Eshkol Regional Council, causing no injuries or damage.
However, despite a police statement that a rocket had exploded in Hevel Shalom, near Gaza, the IDF Spokesperson Unit announced that the siren was sounded by accident, and was in fact a false alarm.
The attack comes after Hamas fired at least one rocket at the Hof Ashkelon region on Wednesday night around 9 p.m., hitting open ground.
The terrorist organization then continued firing into the night until 1 a.m., even after the ceasefire extension was announced, with the Iron Dome anti-missile system intercepting one rocket over the city of Netivot. Two other rockets exploded in the Sdot Negev region.
No injuries were reported in either of the rounds of rocket attacks Wednesday night. The IDF responded by launching several airstrikes on terror targets in the Hamas enclave of Gaza.
Israeli MKs on Wednesday night called for a strong response to the renewed rocket attacks, with Deputy Transportation Minister Tzipi Hotovely (Likud) saying "Israel cannot be a prisoner of Hamas. Operation Protective Edge must end with a mortal blow to Hamas's capabilities, eliminating the leaders of Hamas and achieving deterrence."
Likewise, MK Miri Regev (Likud) commented "all attempts to reach an agreement with Hamas have ended and are doomed to fail because it is a dangerous terrorist organization which aims to destroy Israel. We have seen that all the diplomatic elements cannot influence a terrorist organization."
US President Barack Obama called Prime Minister Binyamin Netanyahu on Wednesday night ahead of the ceasefire extension, pressing him to achieve a "sustainable" ceasefire with Hamas.
Wall Street Journal reports late Wednesday night reveal Obama's administration recently cancelled a shipment of Hellfire missiles to Israel due to Operation Protective Edge, and ordered all future arms requests to be closely scrutinized.