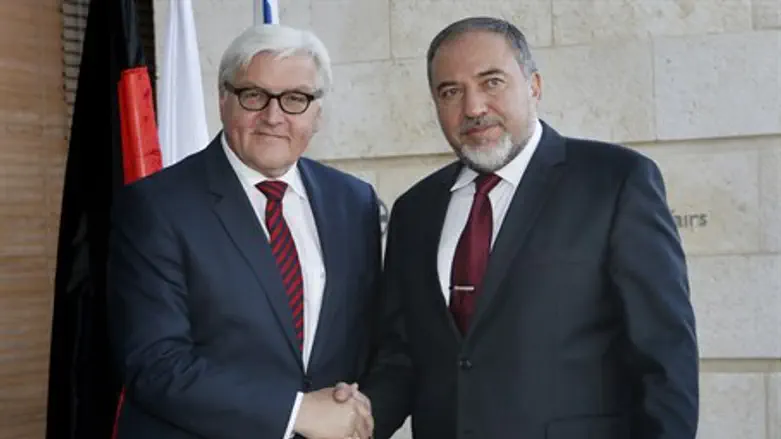 Avigdor Liberman and German counterpart Frank
Flash 90
Bild Zeitung, Germany's most popular daily which boasts a daily readership of at least 3.5 million, has published a full-page ad with the faces of the 64 IDF soldiers killed in Operation Protective Edge against the Hamas terrorist organization in Gaza.
The ad appeared on Monday under the headline "Israel's War Against the Hamas Terrorists: Faces of the fallen."
"64 Israeli soldiers have perished. 64 sons, friends, husbands, who will never return to the bosom of their families. They fell in Gaza while battling Hamas terrorists on behalf of their motherland," read the ad.
Along with pictures of the fallen soldiers, short biographies of several of the soldiers were featured in the paper, which is printed by the staunchly pro-Israel Axel-Springer company.
It is worth noting that Foreign Minister Avigdor Liberman gave an interview to Bild last Thursday, in which he said "Germany and the EU must dispatch inspectors to Gaza to monitor the Palestinians' trade with the neighboring countries," suggesting that the Europeans and not the IDF monitor Gaza.
A total of 67 Israeli soldiers and civilians have been killed during the course of the counter-terror operation.
Particularly hard hit in the fighting was the Golani Brigade, which lost thirteen fighters on July 20 in the Shejaiya neighborhood of Gaza. MK Moshe Feiglin (Likud) blamed Israel's "misplaced pity" as being responsible for the deaths, since the IDF warned residents it would enter the area, giving Hamas ample time to prepare its lethal "welcome."
The pro-Israel ad from Germany is made the more remarkable given the palpable anti-Semitism engulfing the world during Israel's operation to defend itself from terror.
Indeed, there was a reported 436% rise in anti-Semitic incidents in Europe this July compared to the same month in the previous year.