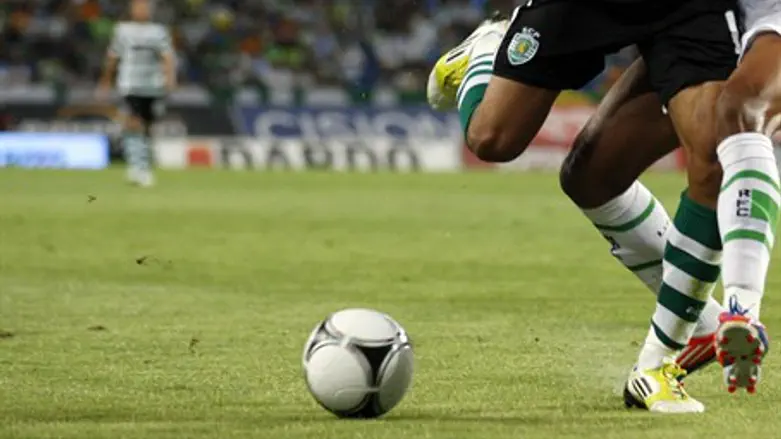 Soccer (illustrative)
Reuters
Irish soccer player Tommy McGuigan became the latest sports figure to spew anti-Semitism two weeks ago, as flagged by the Britan-based Campaign Against Anti-Semitism.
"If you are lucky enough to know or work with a Jew, punch him right on the nose tomorrow," wrote McGuigan, along with an expletive hashtag adding foul language to his anti-Semitic rant.
McGuigan's tweet was later deleted, but not before it made the rounds on social media. It is unclear whether or not any disciplinary action has yet been taken against the soccer star; he has tweeted slurs against hispanics as well, which remain posted on his Twitter page. 
Sports have become a hotbed of European anti-Semitism over the past several weeks, as skewed media reports on Israel's self-defense operation in Gaza have trickled down through various social spheres and venues. 
In July, Skinheads attacked an Israeli soccer team in Poland; two days earlier, Palestinian Arabs attacked the Maccabi Haifa team during a friendly match in Lille, France. 
English Cricketer Moen Ali recently became the subject of an investigation by the International Criminal Court (ICC) over his decision to wear "Free Gaza" bracelets at a cricket match, in violation of regulations. 
The new tweet also surfaces amidst a startling rise in anti-Semitism in the UK. Over the past two weeks alone, infamously bigoted MP George Galloway declared his hometown "Israel-free"; a London theater boycotted a Jewish film festival; and Scotland cancelled an Israeli art show.