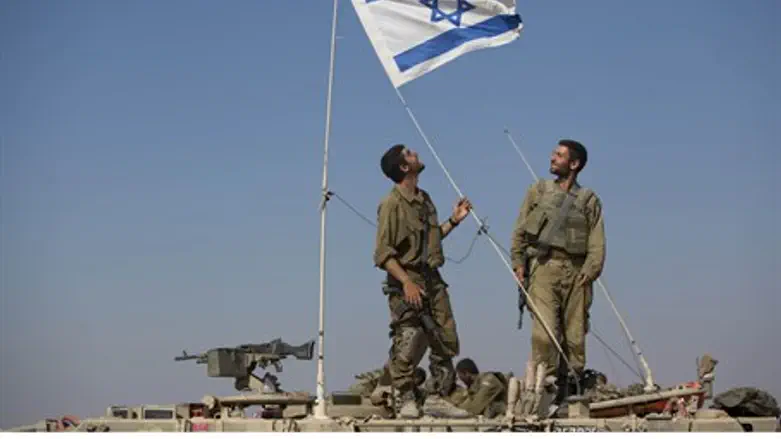 IDF soldiers near Gaza
Flash 90
Indirect talks between Israel and Hamas in Cairo to broker an end to the Gaza conflict have so far made no progress, a senior Israeli official said Tuesday.
"The gaps are still very wide. There has not been progress in the negotiations," he told AFP.
Israel Hayom cited "an official diplomatic source" as saying the talks had reached "a dead end" and the gaps were too wide.
His remarks came as the Egyptian-mediated talks entered their second day and a 72-hour truce held on the ground, bringing relief to millions on both sides of the Gaza border. The truce ends Wednesday at midnight.
The negotiations are aimed at brokering a long-term ceasefire agreement to end a confrontation which erupted on July 8 and which has claimed the lives of 1,940 terrorists and residents of the terror entity in Gaza, and 67 people on the Israeli side, most of them soldiers.
Israeli Prime Minister Binyamin Netanyahu had been due to discuss the Cairo talks with his Diplomacy and Security Cabinet later on Tuesday afternoon but the meeting was cancelled, media reports said.
Late on Monday, a Palestinian official in Cairo told AFP that the first day of talks had lasted nearly 10 hours.
"The negotiations were serious," he said, adding that the Israelis were insisting on the demilitarization of Hamas, the defacto power in Gaza, but that the Palestinians had refused it.
"(Tuesday's) meeting should be the most important," he said, indicating the talks were expected to tackle core issues such as the eight-year-old Israeli blockade of the territory.
Few details have emerged from the negotiations where a Palestinian delegation, comprising senior officials from the Palestine Liberation Organization, Hamas and Islamic Jihad, is pushing for a removal of the blockade.
For its part, Israel is demanding a full demilitarization of Gaza, with Egyptian negotiators facing an uphill battle to reconcile the two opposing positions.
Netanyahu has said it was "important" that the Ramallah-based Palestinian Authority headed by president Mahmud Abbas play a role in Gaza's future, particularly in its reconstruction.