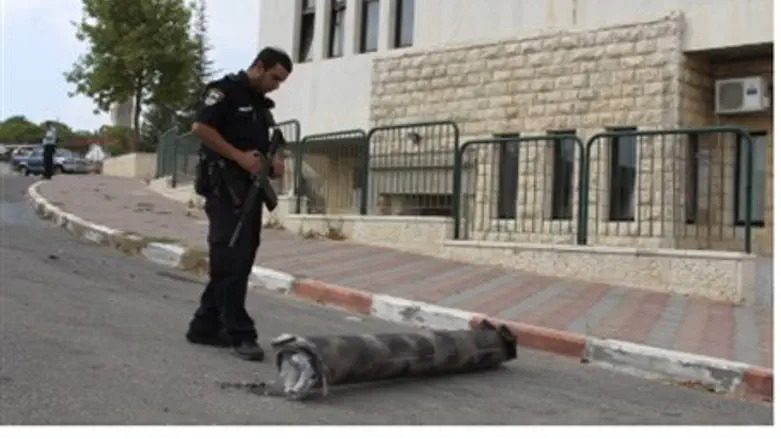 Rocket shrapnel in Etzion Bloc
Flash 90
Israel's Foreign Ministry blasted on Monday the newly appointed United Nations Human Rights Council (UNHRC) panel that will investigate allegations that Israel violated humanitarian law in Gaza during Operation Protective Edge.
In a statement, the Foreign Ministry noted that the appointment of Canadian professor William Schabas, who is known for his anti-Israel positions, means that the panel's report has already been written.
Schabas has in the past called for Prime Minister Binyamin Netanyahu to be prosecuted for war crimes.
"The results are known in advance," a Foreign Ministry official said on Monday night.
Foreign Ministry spokesman Yigal Palmor added, "If any further proof was required, the appointment of the chairman of the committee, whose views and positions against Israel are known to all, proves beyond any doubt that Israel cannot expect justice from such a body, and that the panel's report has already been written and all that is left is to determine who will sign it."
Meanwhile, the U.S. State Department joined in on the criticism on Monday, with deputy spokeswoman Marie Harf telling reporters that any investigation related to Gaza should be done in a way that is non-biased.
"We've always said that if there are specific incidents that need investigation, that we think they should be. We said that with UNRWA schools and we've said that in other cases as well," she said.
At the same time, she added, "there's a way to investigate things that's not one-sided and biased, and there's a way that we don't support."
Several weeks ago, the UNHRC decided to launch an investigation into the IDF's operations in Gaza. The decision to launch an inquiry was made shortly after UNHRC chief Navi Pillay said that there is a "strong possibility" that Israel was violating international law through Operation Protective Edge.
The Prime Minister's Office slammed the UNHRC's decision, saying it is "a travesty and should be rejected by decent people everywhere".
Foreign Minister Avigdor Liberman has said that the UNHRC has long ago turned into the rights council for terrorists.
"We will continue to fight terror and continue to fight the hypocrisy and anti-Semitism of bodies such as the UNHRC," said Liberman.
"When countries such as Cuba, Venezuela and the like, who do not know the concept of human rights, point an accusing finger towards us, it is a sign that we are doing the right things," he added.