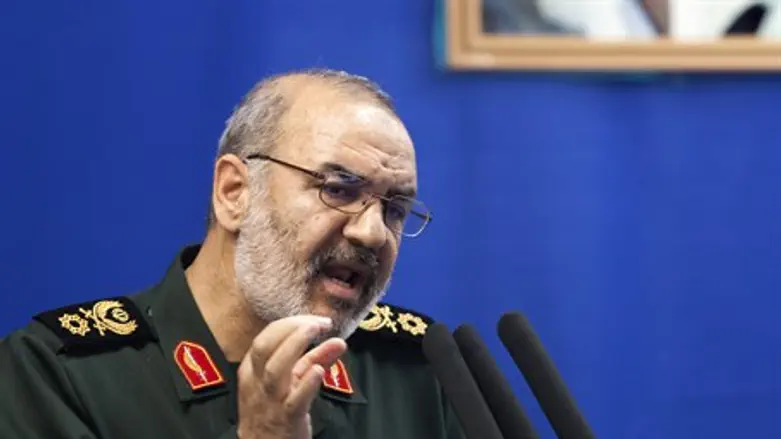 Hossein Salami
Reuters
Iranian Revolutionary Guard Corps' deputy commander, Brig. Gen. Hossein Salami, said Saturday night that since the ceasefire plan proposed by Egypt is "biased," the best possible option for the Palestinians at present is continued resistance and war against Israel. He added that Hamas enjoys hidden war equipment and capabilities which will be used in later stages of the war.
"The plan proposed by Egypt meets the Zionist regime's interests and is not acceptable as it seeks to disarm the resistance, but we know that the damage inflicted on the Palestinians by a ceasefire is more than the damage of war," Salami said in a live interview with Iran's state-run TV on Saturday night, reported Iran's Fars news agency.
Salami said Israel has been defeated in close-range and street fighting against Hamas and other Palestinian groups, and that "the Zionist army cannot move on the ground."
"Their fighter jets can just bomb the Palestinians, and these bombardments are responded to with the resistance's missile attacks," he explained.
Israel's Iron Dome missile shield has proved efficient in only 20% of cases, he claimed.
Salami underlined that the terrorist "resistance" missiles now have a range of 160 km, which means that they cover the entire "occupied territories," leaving Israel helpless "against the flood of Palestinian missiles."
He said that despite the advanced technologies and equipment that Israel possesses and its extensive intelligence operations, the Palestinians have been able to dig hundreds of kilometers of tunnels and their key leaders have escaped assassination. This, he said, shows the Palestinians' "intelligence maturity and superiority."
Salami referred to the situation in Judea and Samaria, and said, "Certainly, the West Bank will move on the same track paved by the Gaza Strip and will certainly be armed and turned into a battle ground. Of course, they are now fighting with rocks, but Gaza also fought with rocks and now has acquired missiles and drones, and this will also happen there."
Hinting at Egypt, he said that certain Arab states oppose "the resistance," and that the resistance questions the legitimacy of the Arab regimes "which want Palestine, Lebanon and Syria to be killed by the Zionist regime so that they can be a regional actor and retain their legitimacy."