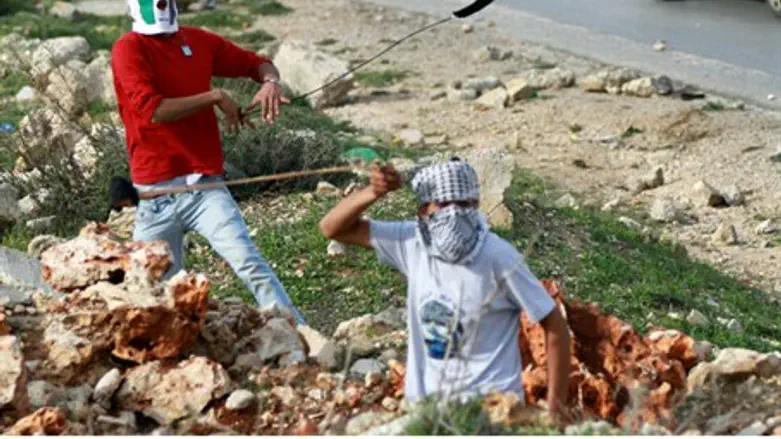 Masked Palestinian Arab teenage terrorists
Flash90
An Arab terrorist was apprehended Sunday morning, after he tried to infiltrate the Binyamin area community of Beit El, located to the north of Jerusalem in Samaria, armed with a makeshift gun.
After the incident, Arutz Sheva spoke to the head of the Beit El Municipal Security Council, Yehuda Dana, about the infiltration attempt.
At first, the terrorist began throwing rocks at the community, just outside the security fence. The incident was reported to security personnel immediately.
"A patrolman spotted him," Dana stated. "He still continued to throw rocks." The patrolman drew his weapon and ordered the terrorist, as well as other rock-throwers, to stop. When the terrorist tried to escape the police and could not, he approached the patrolman.
"The patrolman identified that there was something under his shirt," Dana continued. "He asked [the terrorist] to roll up his shirt and reveal it. The patrolman realized it was a pistol in the terrorists's belt, and instructed him to drop the gun."
The terrorist was arrested and taken by the Israeli Security Agency (ISA or Shin Bet) for questioning. The ISA will eventually determine whether or not the terrorist attempted to use the gun, which was an improvised weapon. 
While the improvised weapon may not have had the same firepower as a standard gun, Dana said, "the consequences [of leaving the terrorist armed] could have been dangerous." 
Since Operation Brothers' Keeper in Judea and Samaria in June, Route 60 was closed to Palestinian Arab traffic and security was increased - until recently, Dana said. 
Several senior officers have expressed hope for convincing the Civil Administration to permanently close Route 60 to Palestinian Arabs to help ease the rise of terrorism in the region, and Dana noted that the statistical data regarding terror attacks in Judea and Samaria shows a clear connection to the road closures. 
האקדח המאולתר שנתפס ברשות המחבל
credit: מחלקת הביטחון של מועצת בית אל
האקדח המאולתר שנתפס ברשות המחבל
credit: מחלקת הביטחון של מועצת בית אל
המחבל שנתפס
credit: מחלקת הביטחון של מועצת בית אל
credit: מחלקת הביטחון של מועצת בית אל