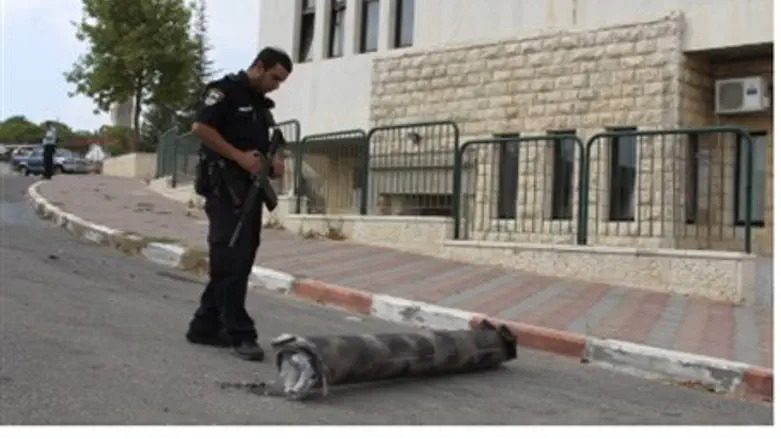 Rocket shrapnel in Etzion Bloc
Flash 90
Hamas terrorists launched a rocket attack on Israeli civilians minutes before a 72-hour ceasefire took hold at 8:00 a.m. Tuesday.
Rockets were fired at fires at the Gaza Belt, Ashdod, Ashkelon, Kiryat Malachi, Gan Yavneh, Maaleh Adumim and Judea. No one was reported hurt. An Arab family's home near Bethlehem, in the area under Palestinian Authority control, reportedly suffered a direct hit, however.
The rocket, fired with several others that fell in open areas in Israel or were intercepted, struck the home of the Attoun family in the town of Beit Sahour, said Maan News. No injuries were reported, but the rocket caused damages to the upper floor of a building. The electricity network in the area was also damaged.
The night that preceded the attack was the quietest since the intense fighting in Gaza began, four weeks ago. Only two terror rockets were fired at Israel.
The IDF said it would take out all of its forces from Gaza by 8:00 a.m. The demolition of 32 tunnels has been completed, it said. The IDF remains in full alert around Gaza.
All in all, the IDF said, 4,800 targets were attacked and 900 terrorists eliminated.
IDF casualties were 64 killed and over 400 wounded.
There is great skepticism about the ceasefire agreement, after six previous agreements were broken by Hamas. In the course of the 72-hour lull, if it is respected, Israel and Hamas will conduct indirect negotiations with the mediation of Egypt and the Palestinian Authority.
An Israeli delegation will head to Cairo in the course of the next 72 hours to negotiate the terms of the arrangement that is to follow the lull.
According to IDF Radio, Prime Minister Binyamin Netanyahu did not bring the decision to abide by the ceasefire to a ministerial vote. Instead, he called the Cabinet ministers at night and informed them of his decision to opt for the lull. He informed them that he is doing so based on their vote in favor of a ceasefire last Wednesday. "Netanyahu may have feared he would not have a majority for the decision," said IDF Radio, "since [ministers] Liberman, Bennett, Aharonovich and Erdan could vote against it."
Israel will demand that reconstruction of Gaza be linked to its demilitarization, while Hamas will demand that the naval blockade be removed and that the passages in and out of Gaza be opened.