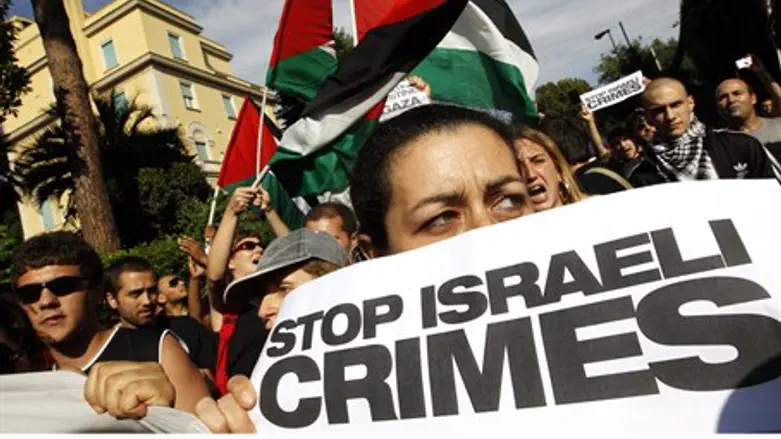 Pro-Palestinian demonstration (file)
Reuters
Pro-Palestinian organizations, in cooperation with radical leftist organizations - including some Jewish groups - continue organizing anti-Israeli demonstrations across Canada. 
On July 30, the "Coalition Against Israeli Apartheid" (CAIA) held a demonstration in Dundas Square in downtown Toronto, which attended by hundreds of local residents who were carrying placards denouncing Israel and support the Palestinian people, according to Shalom Toronto. 
One of the speakers at the demonstration was Issam Al - Yamani, director of "Palestinian house" representing the Palestinian community in Canada and Coordinating Committee member of CAIA.
Yamani was previously a member of the Popular Front for the Liberation of Palestine (PFLP) and in 2006 issued an expulsion order from Canada that has still not been enforced. 
Yamani, in his speech, called for a third intifada, including outside of Palestine - whose purpose is to release the entire area of ​​"historical Palestine."
The following is an excerpt from the speech of Yamani: 
"As a Palestinian I will allow myself to say this, and I would like to call on the Palestinian leadership and ask them and call upon them to act as Palestinian leaders, the leaders of the Palestinian people, the people in Gaza and the West Bank are Palestinians. 

"The leadership, the Palestinian leadership and the President of the Palestinian Authority (Mahmoud Abbas), should not be a mediator between Hamas and Israel, between Hamas and Egypt. 

"He (Abbas) should be the leader of this struggle, and we call upon him to call for an immediate Palestinian third Intifada, popular resistance in the West Bank and in Gaza, in the refugee camps and in the Diaspora. 

"That is the only way the Palestinian people will be united for our struggle. We don't want an artificial unity. Mr. Abbas, if you are not up to the challenge give the keys to the United Nations, the keys of the Authority to the United Nations, and declare the whole of Palestine as an occupied territory."
Hamas in Gaza also called for a new intifada on Friday, as well as a "Day of Rage" throughout Judea and Samaria.