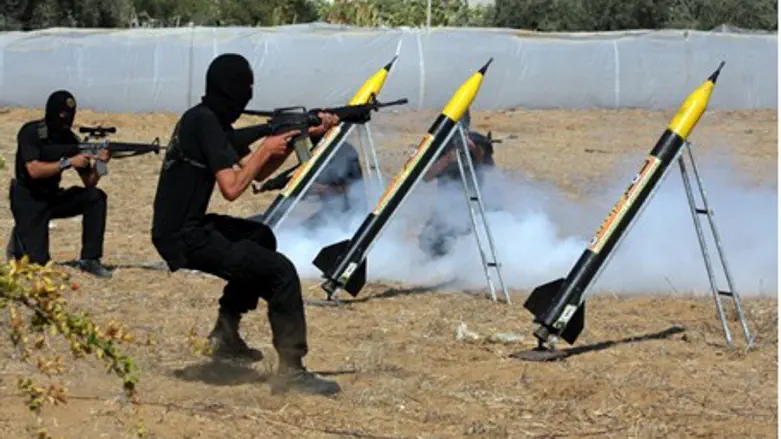 Gaza continues to fire rockets at Israel
Flash 90
A "humanitarian ceasefire" between Israel and Hamas has broken Friday, after Hamas fired yet another salvo of rockets on Israel despite the bilateral truce. 
Heavy fighting has now broken out between Israel and Hamas in southern Gaza, according to Palestinian sources, who also claim that eight terrorists have been killed since 10:00 am. 
Rocket fire from Hamas and Islamic Jihad has resumed.
Mortar shells have been fired in the Eshkol region; no injuries were reported, but a brushfire started and is spreading. Firefighting teams are working to stymie the blaze. 
The Iron Dome missile defense system also shot down two rockets over Ofakim Friday afternoon.
"Once again the terror organizations in Gaza flagrantly violating the ceasefire to which they committed themselves, this time to the US Secretary of State and the UN Secretary General," a statement from Prime Minister Benjamin Netanyahu's office said, without pointing to a specific incident.
Escalation
Earlier, Hamas fired a salvo of rockets at the south just before 7:00 am Friday; two rockets hit open areas in S'dot HaNegev and in the Merhavim area. No injuries or damage were reported.
Additional rockets were fired at Ashkelon and Ashdod, just after 7:30 am. Two rockets were intercepted by the Iron Dome missile defense system over Ashdod; there are no reports of injuries or damage. 
Yet another salvo was fired, just five minutes before 8:00 am, at Gaza Belt communities.
The barrages were fired just minutes before a 72-hour ceasefire was to take effect, in a UN and US-brokered deal slated to begin 8:00 am Friday. 
The Prime Minister's Office (PMO) announced Friday morning that Israel has officially accepted the three-day truce.
"In accordance with the Cabinet decision, the Prime Minister and Defense Minister [Moshe Ya'alon] have accepted the US's and UN's proposal for a 72-hour humanitarian ceasefire, beginning from 8:00," it said, in a statement. 
US Secretary of State John Kerry first announced that Israel and Hamas have agreed to the ceasefire; an announcement from Hamas accepting followed shortly thereafter.