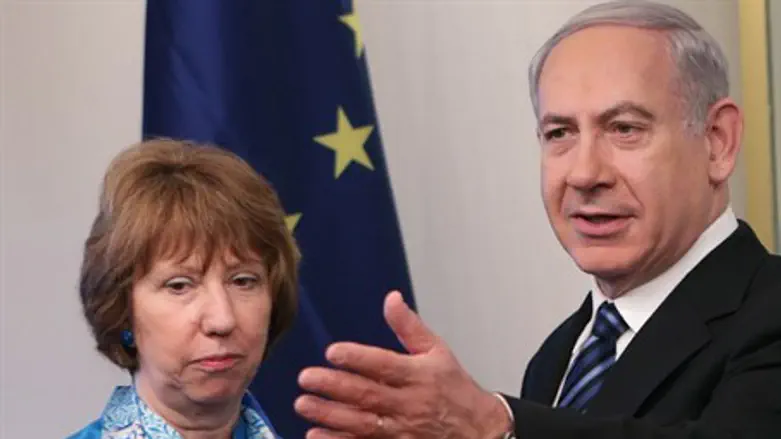 EU's Catherine Ashton and Binyamin Netanyahu
Flash 90
The European Union (EU) issued a statement on Friday in which it called for an immediate ceasefire in Gaza.
"The EU remains closely involved in seeking an immediate ceasefire to end the fighting in Gaza. We call on all parties to agree to an immediate ceasefire based on the November 2012 ceasefire agreement. We welcome the ongoing efforts by regional partners and in particular by Egypt to this end," said the statement.
"We are extremely concerned about the continued escalation of violence in the Gaza Strip and the deplorable increase in the number of civilian deaths, among them more than 190 children," it added.
"We reiterate the condemnation of the loss of civilian lives in particular the most recent deaths of 16 Palestinians seeking shelter in the UNRWA school in Beit Hanoun which came under fire. We call for an immediate and thorough investigation into this incident," said the EU statement, referring to Thursday's incident, when the United Nations aid agency claimed that the IDF did not permit civilians to evacuate a Gaza school where 15 people were killed in an Israeli attack.
"This is the fourth occasion on which an UNRWA shelter has come under fire. We call on all parties to respect the inviolability and the integrity of UN premises. These latest events underscore the importance of establishing humanitarian corridors in Gaza as a matter of urgency," said the EU's statement.
The IDF has since called out UNRWA over its claims, noting it had tried to move people out of the school for two days before the attack.
Civilians who wish to leave conflict zones must be allowed to do so.
Israeli military operations must be proportionate and in line with international humanitarian law. We reiterate our condemnation of the indiscriminate firing of rockets into Israel by Hamas and other militant groups," said the EU.
"The recent tragic escalation of hostilities underlines the unsustainable nature of the status quo in Gaza and the need to address the humanitarian and socio-economic situation there without further delay," the statement said.
Meanwhile on Friday, the Israeli Cabinet announced that it had unanimously voted to reject a ceasefire proposed by U.S. Secretary of State John Kerry.
Hamas responded by firing a salvo of rockets towards southern and central Israel. Most of the rockets were intercepted by the Iron Dome system.
(Arutz Sheva's North American Desk is keeping you updated until the start of Shabbat in New York. The time posted automatically on all Arutz Sheva articles, however, is Israeli time.)