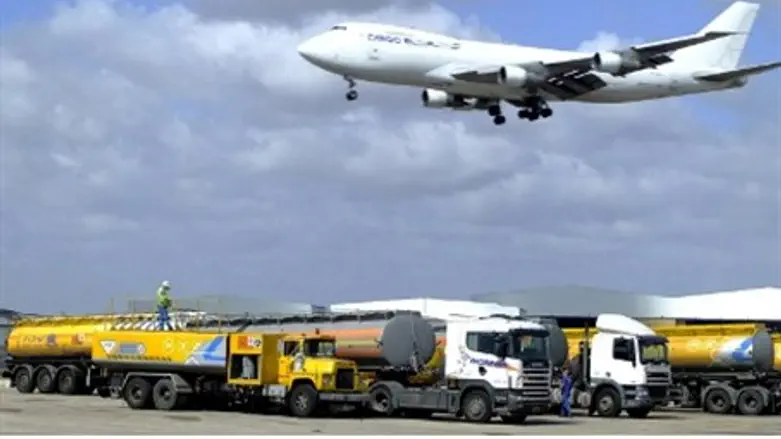 Airplane landing at Ben Gurion - illustrative
Flash 90
The European Aviation Safety Agency (EASA) on Thursday lifted its recommendation for airlines to stop flights to Tel Aviv due to the conflict in Israel and Gaza.
It said it had revised its decision adopted Wednesday "on the basis of information provided by the Civil Aviation Authority of Israel and following coordination with the Federal Aviation Administration".
Meanwhile, Europe's aviation body on Thursday called for an "urgent" debate on airspace security guidelines after the downing of flight MH17 over Ukraine and the suspension of flights to Tel Aviv.
Airlines need independent risk assessments of their flight plans, rather than relying on governments and air traffic control alone to decide on danger zones, the Association of European Airlines (AEA) said.  
The crash of the Malaysian Airlines flight, which claimed the lives of all 298 passengers, was allegedly the result of a missile attack by pro-Russian rebels in Ukraine.
While the United States and Europe had told their civil aviation authorities to steer clear of Crimea after Russia laid claim to its airspace, the no-fly order had not been extended to where the plane crashed.
This week, several airlines also suspended flights to Israel after a rocket fired by Hamas terrorists in the Gaza Strip struck a house in the city of Yehud, just north of Israel's main airport in Tel Aviv.
On Thursday morning, the US Federal Administration Agency lifted its flight ban to Ben Gurion, allowing American companies to resume normal services.
Russia's second-largest airline - Transaero - soon followed suit, announcing that it would also be resuming flights to and from Israel.
But several European airlines are yet to decide whether to end their own flight suspensions.
"The downing of Malaysian Airlines' flight MH17, which was flying in approved international airspace, triggers questions about how risk assessments are made," AEA chief Athar Husain Khan said in a statement.
"Together with the International Air Transport Association (IATA) and our member airlines we ask for an international debate about airspace security guidance." 
Each country controls its airspace own and there are no precise flight regulations for conflict zones, so decisions or recommendations are made by many different bodies.