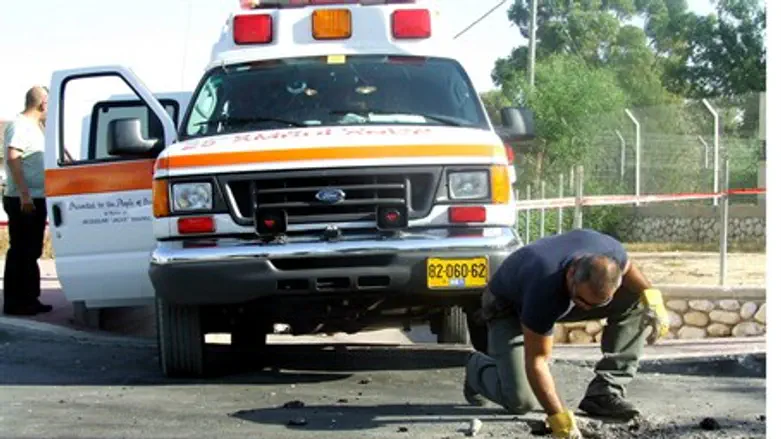 Ambulance races to the scene
Israel news photo: Flash 90
Foreign workers in Israel know that the money they earn and send home does not come without risk. The Thai worker killed by Hamas rocket fire yesterday brings the number of foreign workers felled by anti-Israel Palestinian terrorists over the past 13 years to at least 27.
The killing in Netiv HaAsarah yesterday was caused by mortar shell shrapnel. It led the Finance Ministry to announce the allocation of 3.5 million shekels, or over $1 million, for protective concrete open-ended "barrels" (miguniyot, in Hebrew), in which workers in the fields can find shelter when a bomb-alert sounds.
Knesset Member Zevulun Kalfa (Jewish Home Party), a farmer by trade and head of the Agricultural Lobby in the Knesset, had led a struggle to this end. He expressed frustration that it was only because of the latest such death that the goal of obtaining the miguniyot had been attained.
The worker's name has not been announced, though he brings the total of Thai workers killed in Palestinian attacks since 2001 to five. Seven victims during this period were from Romania and China each, and two lived in each of the Phillipines and Bulgaria.
Moshav Netiv HaAsarah, just north of the Gaza Strip, was originally founded in 1973 in northern Sinai. After the Sinai was handed over to Egypt, the moshav was relocated to its current location in 1982. Its population of over 600 has suffered during the current warfare from frequent missile sirens and terrorist infiltration alerts; the exit of at least one Hamas terror tunnel from Gaza was discovered to lead into Israel very near Netiv HaAsarah.