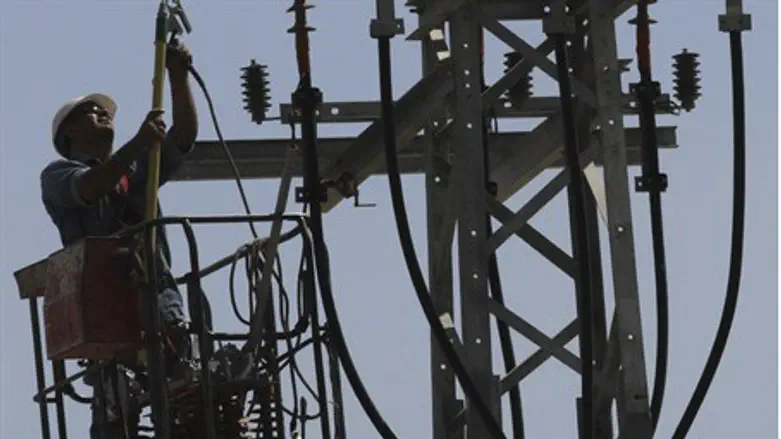 IEC workers fixing electrical outages
Flash90
Among the demands Hamas has demanded that Israel fulfill in exchange for a cease-fire is the continued unlimited supply of free electricity by Israel to terrorists-run Gaza.
The electricity demand was one of "ten commands" Hamas has put forth, the terror group said.
Hamas owes the Israel Electric Company (IEC) hundreds of millions of shekels, part of the 1.4 billion shekel electricity bill that the Palestinian Authority owes. Neither the PA nor Gaza have paid for electricity for at least a decade.
On Monday, Hamas top terrorist Ismail Haniyeh again reiterated that the terror group would fight "until the last drop of blood" in its attempts to destroy Israel. "We will continue the struggle until we liberate the land, Jerusalem, and the Al-Aqsa Mosque, and return the 'refugees' to their homes," he said.
With that, Haniyeh said that if Israel was interested in a cease-fire, it needed to fulfill Hamas' conditions, which include an "immediate end to Israeli aggression against the Palestinian people in Gaza on land, in the air, and by sea;" an end to targeted elimination of Hamas terrorists; a cessation of the policy of destroying terrorists' houses; a halt to the flyovers by the Israel Air Force over Gaza; the reopening of land crossings, and the rehabilitation of the Gaza seaport; the free flow of goods into Gaza; a guaranteed supply of fuel and building materials; an end to "collective punishment" of Gazans; and continued supply of electricity.
Israelis around the country took to the streets last week demanding that the government turn off the electricity in Gaza. While a number of political figures and security experts in recent days have said that the only way Israel can end the threat of future rounds of rocket warfare by Gaza terrorists was to destroy Hamas, by entering Gaza and cleaning it out of Hamas influence, protesters in cities and major junctions said that cutting off power to Gaza was a non-lethal way to bring Hamas to its knees.
"Gaza has not paid for its electricity for a long time, and now owes Israel NIS 220 million in unpaid power bills," said one protestor. "If you or I miss a month or two of payments, they turn off the electricity in our house, but Hamas chisels its way out of the Gaza bill with no consequences."