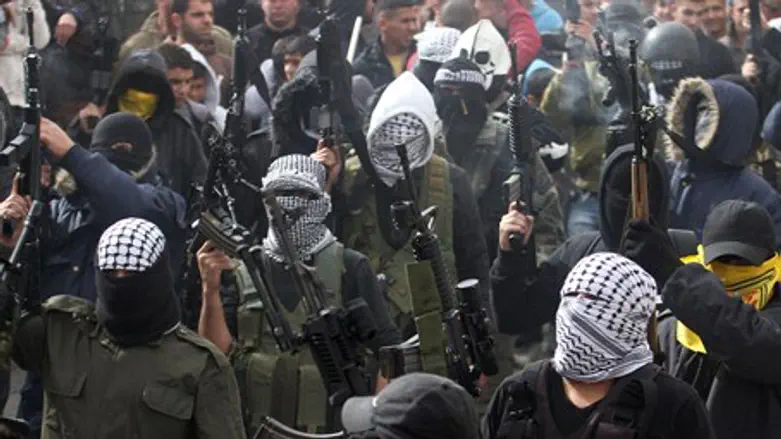 Fatah's Al Aqsa Martyrs Brigade terrorists
Flash 90
The official Facebook page of Fatah, the terror movement and political organization headed by Palestinian Authority chief Mahmoud Abbas, has published photos from Tulkarem, in Samaria, showing Fatah activists passing out sweets to people in the street to celebrate the alleged abduction of an IDF soldier in Gaza.
The claim regarding the abduction was circulated by Hamas early Monday morning, but has been denied by Israel.
The Facebook page administrator noted under the picture: "The Fatah branch in Tulkarem hands out sweets out of joy over the abduction of a soldier by the Palestinian resistance on the blessed soil of Gaza. Full freedom to all of our brave prisoners."
Palestinian Media Watch has also documented expressions of joy from Fatah over the rocket fire at Israel. The movement wrote a message to Israelis in Hebrew: "Death grasps you from south to north... the KN-103 missile is coming to you."
Fatah also lionized a terror unit made up of women who train in rocket fire, and presented female suicide bombers as heroines.