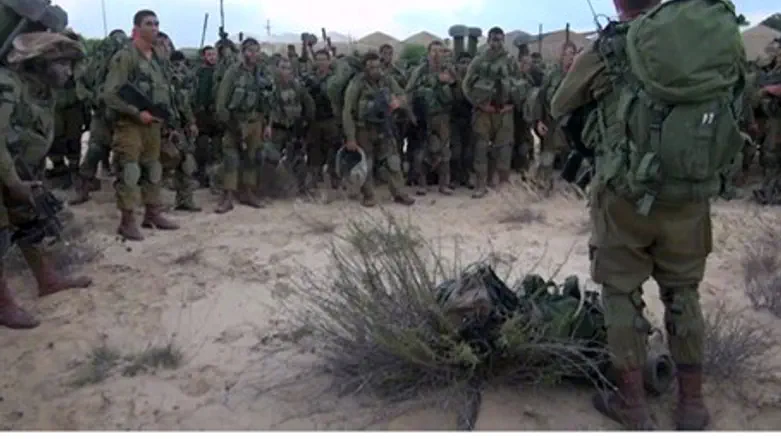 Ground offensive in Gaza
IDF/Flash90
The IDF has killed 17 terrorists, it announced Friday afternoon, and taken in an additional 13 - who surrendered - for questioning. 
In addition, they have uncovered four terror tunnels and destroyed 21 rocket launchers, it said. 
Earlier, Palestinian Arab sources claimed that the IDF is actively working to destroy two terror tunnels Friday, as the ground offensive in Operation Protective Edge progresses. 
But the ground offensive is allegedly relatively low-key, they added, saying that IDF tanks have not been spotted past "a few hundred meters over the border." 
"It's completely different than what we saw in 2008," the source stated, referring to Operation Cast Lead. "There are virtually no forces inside the border." 
Multiple sources in Gaza have confirmed those statements, according to the daily. 
Meanwhile, between six and ten rockets have struck Israel as of 11:30 am Friday morning, mostly in Israel's south; approximately thirty rockets were fired since the ground offensive was launched roughly 12 hours ago. 158 were fired at Israel on Thursday alone. 
The Home Front Command (HFC) has reminded all Israelis to immediately find shelter in the event of a siren. 
The IDF also released updated statistics on Operation Protective Edge Friday, which is in its eleventh day total and the first 12 hours of a ground offensive. 
So far, 1,497 rockets were fired on Israeli civilians from Gaza. Of those, 1,093 hit Israel; 301 were intercepted by the Iron Dome missile defense system. Roughly 100 have been estimated to have struck Gaza itself, killing an untold number of Palestinian Arab civilians. 
The IDF has eliminated 2,037 terror targets in Gaza. 
credit: פלאש90
credit: פלאש90
credit: פלאש90
credit: פלאש90
credit: פלאש90
credit: פלאש90
credit: פלאש90
credit: פלאש90
credit: פלאש90
credit: פלאש90
credit: פלאש90
credit: פלאש90
credit: פלאש90
credit: פלאש90
credit: פלאש90