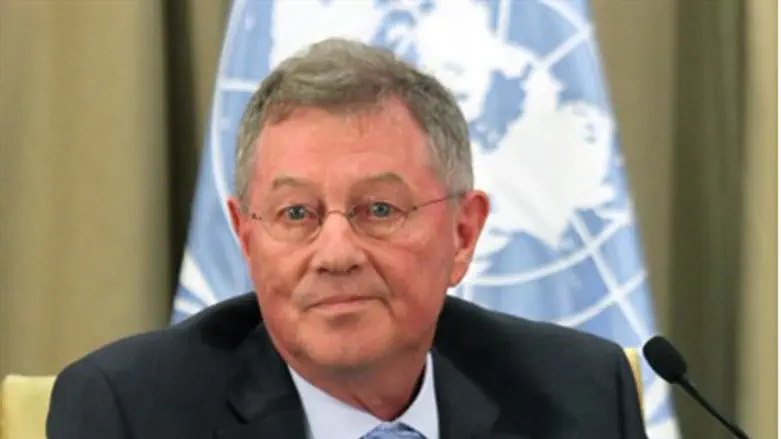 UN envoy Robert Serry
Flash 90
Israel has accepted a request by UN envoy Robert Serry to enact a six-hour "humanitarian ceasefire" starting Thursday morning.
Serry submitted the request to both the Israeli government and Hamas on Wednesday evening in order to allow humanitarian aid into the Gaza Strip; while Israel accepted immediately, Hamas has yet to respond.
The IDF spokesman has now released an official statement on the 'humanitarian ceasefire' - emphasizing that while it will be a 'window of opportunity' for Palestinian Arabs in Gaza to get supplies and evacuate, it does not preclude an IDF response to more rocket fire.
"In light of decisions by political authorities, and after repeated requests by UN officials, says that in light of the political authorities, and after repeated requests from UN sources [. . .] it has been decided to allow tomorrow, between the hours of 10:00-15:00 on July 17, to allow a limited window of opportunity - to allow the Palestinian population some replenishment and repairs in light of the ongoing military effort," it said.
"Residents evacuated from Beit Lahia and the Zeitoun refugee camp will not be allowed to return after 15:00," it added, implying that this area of northern Gaza is targeted immediately after the 'humanitarian ceasefire' ends. "Any attempt to take advantage of this ceasefire, in rocket fire on Israel, will be responded in kind." 
It comes as efforts continue to broker a more long-term truce after Hamas rejected an Egyptian-brokered ceasefire agreement Tuesday morning, and responded by escalating its rocket fire against Israeli civilians. One Israeli man, 38-year-old father of three Dror Hanin, was killed in a mortar attack near the Erez Crossing bordering Gaza as he handed out food packages to Israeli soldiers.
Since then, both terrorist rocket fire and Israeli military strikes on Hamas and Islamic Jihad targets in Gaza have continued with renewed intensity.
In all, terrorists have fired 1,350 rockets at Israel since the start of Operation Defensive Edge eight days ago, including nearly 100 on Wednesday as of 22:00.
More to follow.