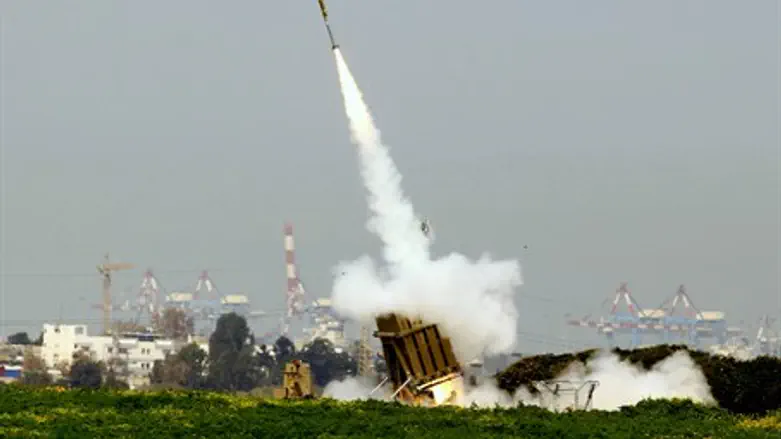 Iron Dome employed against Gaza rocket
Flash 90
More than two dozen Red Color warning sirens sounded in cities in central Israel Sunday afternoon, as Hamas terrorists fired a major volley of rockets at Israel. Rockets were fired at Tel Aviv, Bat Yam, Holon, Rishon Lezion, Raanana, Kfar Sava, Hadera, Netanya, and other communities. At least two rockets were intercepted over the skies of Tel Aviv and Bat Yam by the Iron Dome system, officials said.
In addition to the rockets in the center, Red Color sirens sounded in Haifa and in Nahariya, in Israel's extreme north. The Nahariya alert turned out to be a false alarm. Security officials initially said that the rocket was fired not from Lebanon, but from Gaza, adding that they had not been aware that Hamas had such weapons, and were investigating the reports. The IDF later announced that the alarm had been a false one and no rocket had been fired at Nahariya.
Two rockets fell in northern Israel, both in open areas. One fell south of Haifa, and one east of the city. No injuries or damage were reported in those attacks. Hamas sources in Lebanon said that they had not fired the missiles Sunday, and that missiles fired on Saturday night on northern Israel had come from Gaza as well. Three rockets were fired Saturday night at northern Israel. No injuries or damage were reported in those attacks.
Magen David Adom officials said that no one was injured in the latest volley of rockets, although there were numerous reports of individuals suffering from shock. Some damage to buildings was reported, mostly from falling shrapnel, officials said.
In a statement, Hamas said that it had fired five Fajr rockets at Rishon Lezion, and two M75 rockets at Tel Aviv.