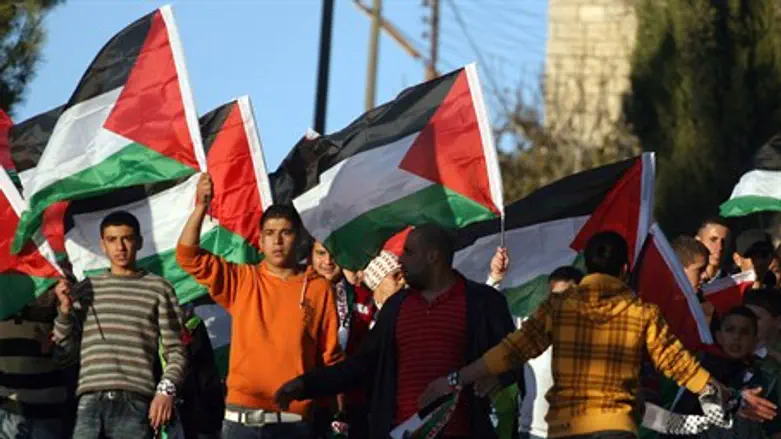 Anti-Israel demonstration (illustration)
Flash 90
Thousands of protesters from Australia to India rallied to voice their support for Palestinian Arabs on Sunday, as Israel mounted a ground assault in Gaza and the death toll from air strikes climbed, AFP reports Sunday. 
In Sydney an estimated 3,000 people demonstrated outside the city's Town Hall to condemn the military offensive, shouting "Free, free Palestine; free, free Gaza" and holding signs declaring "Shame Israel Shame".
"Israel is targeting the civilians of Gaza with these bombings, and that is shameful and that is what we condemn," Greens party senator Lee Rhiannon told the crowd.
As Israel's air campaign in Gaza entered its sixth day, the overall death toll rose to 165 with more than 1,000 injured and the UN Security Council called on both sides to declare a ceasefire.
In Indonesia, the world's most populous Muslim nation, about 500 people marched in the capital Jakarta shouting "Allahu Akbar" (God is great) and carrying Palestinian flags and posters of children allegedly killed in the offensive.
"This is a show of solidarity for our Muslim brothers and sisters in Gaza who are being oppressed by Israeli occupiers. We Indonesian Muslims share their suffering and pain," activist Adityo Nugroho told AFP.
Israel began Operation Protective Edge before dawn on Tuesday in an attempt to halt cross-border rocket fire from terrorist groups.
In Hong Kong, organizers of a pro-Palestinian rally said about 300 people, mostly from the city's Muslim community took part.
Some held up banners depicting the Israeli flag with the star of David replaced by a swastika, as protesters marched through the streets in the sweltering heat.
"We came to support our sisters and brothers in Gaza and our request is that they stop the killing of innocent children women in men in Gaza," 21-year-old restaurant manager Kashi Anjum told AFP.
In the Indian capital New Delhi about 100 protesters, mainly students, gathered outside Israel's embassy carrying placards stating "We are with you Gaza" and "Say no to Zionist genocide".
Protests were also held in Tokyo and Malaysia on Friday.