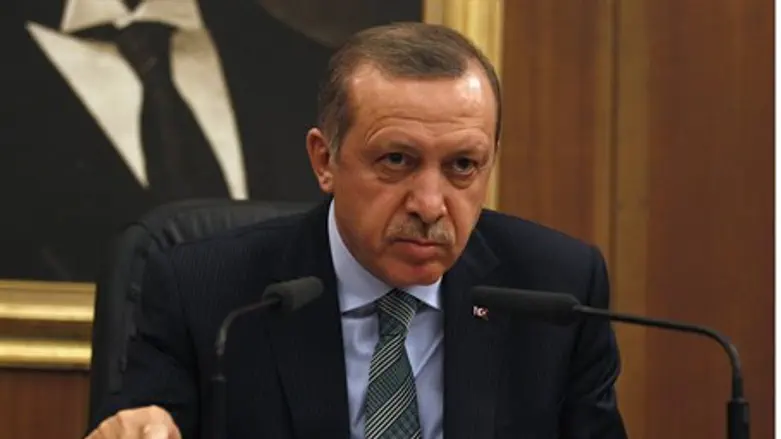 Turkey's Prime Minister Recep Tayyip Erdogan
Reuters
Turkish Prime Minister Recep Tayyip Erdogan accused Israel of a policy "based on lies" on Friday, as he fumed over Operation Protective Edge, in his latest vehement criticism of the Jewish state.
"They are not honest... We cannot take the side of the cruel," Erdogan told supporters in Istanbul, noting that 100 Palestinians had now been killed while no lives had been lost in Israel. "   
"They say (Hamas) is firing rockets. But is there anybody who died?" he asked. "The number of Palestinians that you (Israel) killed is now 100. Their (Israel's) life is based on lies." 
Hours earlier, Erdogan threatened to sever the normalization process with Israel over the operation, which aims to protect the 3.5 million Israeli citizens now estimated to be in the line of Hamas's rocket fire, 
"You will first stop this oppression. If not, it is not possible to realize normalization between Turkey and Israel," Erdogan said. 
The statement surfaces despite efforts to ease strain between Israel and Turkey, in light of the Mavi Marmara incident of 2010.
The Mavi Marmara, which claimed to international media to be providing "humanitarian aid for the people of Gaza," was the largest ship in the flotilla aimed at breaking Israel's Gaza blockade on May 31, 2010.
The ship defied orders to turn around and dock at the Ashdod port. After it ignored repeated warnings to change course, the IDF boarded the vessel - only to be attacked by Islamist extremists on board.
The soldiers had no choice but to open fire, resulting in the deaths of nine of the activists on board.
After an investigation, Israeli authorities discovered the vessel to be carrying no humanitarian aid - in fact, no aid supplies at all - whatsoever. 
When Israel refused Turkey's demands to apologize for raiding the Marmara,Turkey withdrew its ambassador from Israel and expelled the Israeli ambassador in Ankara.
Erdogan himself has also had a long public record of anti-Semitic statements, including several recently despite efforts to normalize relations.
Several months ago, Erdogan kicked and beat a protestor who approached the premier over the May 2014 Soma mine disaster. 
"Why are you running away from me - Israeli sperm!" he shrieked, slapping the protester, in video footage uploaded to Sozcu TV. The word "sperm" is seen as a particularly offensive insult in Turkish. The footage later shows security forces beating the man.
In 1998, prior to his stint as PM, Erdogan - then mayor of Istanbul - infamously declared that "the Jews have begun to crush the Muslims in Palestine, in the name of Zionism. Today, the image of the Jews is no different than that of the Nazis."
More recently, Erdogan accused Israel of being behind the ouster of Egyptian Muslim Brotherhood leader Mohammed Morsi.