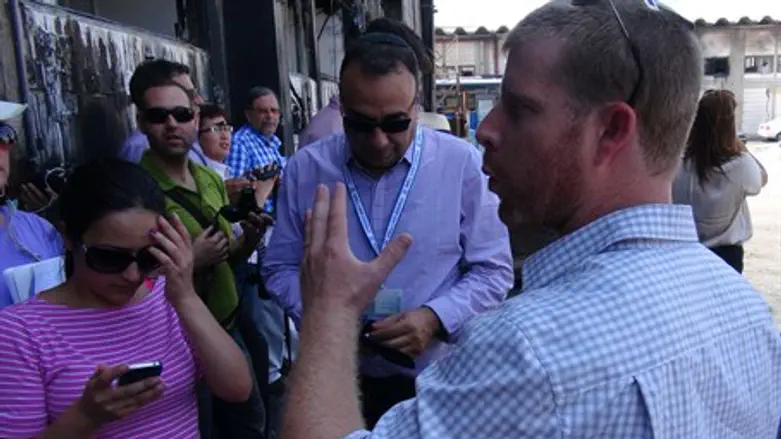 Foreign journalists in Sderot
Hezki Ezra
Foreign journalists on Thursday got a first-hand taste of what it's like for Israelis living under constant rocket fire by terrorists in Gaza, as rocket warning sirens sounded while the journalists were taking a tour of Sderot.
The group was being given a tour of a factory in Sderot that was completely burned down last week after taking a direct hit by terrorists' rockets.
During the tour, the "Color Red" missile warning sirens sounded, and the journalists documented the explosion overhead as the Iron Dome anti-missile defense system intercepted the rocket in mid-air.
"It's not only Gaza in this story," Nitzan Chen, director of the Government Press Office, told Arutz Sheva. "There are also two million Israeli citizens who are in safe rooms and shelters for over three days."
"There's nothing as good as seeing with your own eyes, and we see the damage caused to Israelis in their daily lives; the media needs to be as balanced as possible. If it isn't objective - let it at least give the Israeli side too," remarked Chen.
According to Chen, the foreign press is less interested in the current Operation Protective Edge than it was in past operations, such as Pillar of Defense and Cast Lead, "but still there is press here than needs to 'feed' them so they won't just get the Arab side."
In terms of exposing the world to the reality of Israelis living under fire, Israeli UN Ambassador Ron Prosor played the warning siren from his mobile phone while at a UN Security Council on Thursday, saying "fifteen seconds, that's how much time you have to run for your life."
The tour of the foreign journalists Hezki Ezra