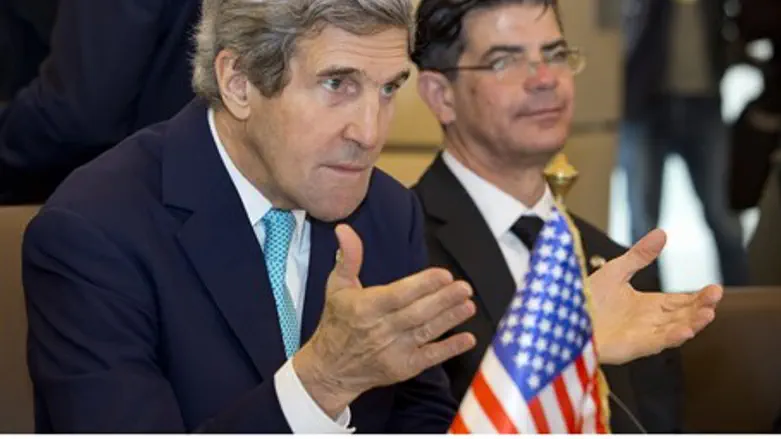 John Kerry
Reuters
According to Hamas spokesperson Moussa Abu Marzuk, the fact that some 70 Gaza Arabs have been killed in the latest round of fighting between Israel and Hamas is all the fault of US Secretary of State John Kerry.
Kerry, said Abu Marzouk, gave Israel carte blanche "to kill at will" in Gaza when he said earlier this week that Israel had a right to defend itself from Hamas rocket attacks.
"Kerry is responsible for the murder of Gaza's children," said Abu Marzouk. "[Prime Minister Binyamin] Netanyahu talks to Kerry about the rockets we are firing, but he is really trying to divert attention from his crimes – the destruction of more than 60 homes with American missiles fired by Israel."
On Tuesday, Kerry spoke to Prime Minister Binyamin Netanyahu, and asked him to "act with restraint" in his response to Hamas's pounding of southern Israel. With that, State Department spokesperson Jen Psaki said that the U.S. supported Israel's right to defend itself.
"We condemn the firing of missiles at Israel and support Israel's right to defend itself," said Psaki.
The White House on Tuesday strongly condemned the incessant rocket fire from Gaza towards Israel and reiterated that Washington supports Israel's right to self-defense.
"We strongly condemn the continuing rocket fire inside of Israel and the deliberate targeting of civilians by terrorist organizations in Gaza," White House spokesman Josh Earnest said in a statement.
"No country can accept rocket fire aimed at civilians and we support Israel's right to defend itself against these vicious attacks," he added.