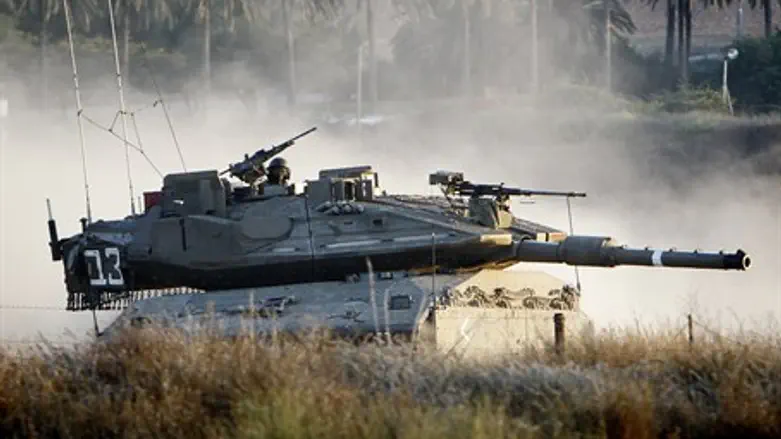 Merkava Mark IV tank near Gaza
Flash 90
IDF Chief of Staff, Lt. Gen. Benny Gantz, has approved all of the plans for an IDF ground offensive into Gaza, IDF Spokesman Brig. Gen. Moti Almoz said Wednesday evening. He added that the pressure on Gaza will grow in the coming hours and the IAF attacks will become even more intense. 
According to statistics released by the IDF Wednesday, about 300 rockets have been fired at Israel since Operation Protective Edge began two days ago. Seventy-two rockets hit Israel in the course of Wednesday, by about 8:00 p.m.
Two of the rockets were fired at Holon and Bat Yam, just south of Tel Aviv. One of them was intercepted by Iron Dome and the other struck an empty area. Islamic Jihad took responsibility for the rocket fire on the Tel Aviv area. Three other rockets were fired at Dimona, where Israel operates a nuclear plant. One was intercepted and the other two struck empty spaces. 
One rocket scored a direct hit on a home in a "kibbutz" community in the Shaar Hanegev region. There was no one in the home at the time, and no one was hurt.
Hamas is "extremely frustrated" by the success of the Iron Dome system in intercepting most of the rockets that could have caused death and destruction in Israel, according to Channel 2's veteran Arab affairs expert, Ehud Yaari.
Sirens sounded Wednesday in Binyamina, Habonim, Zihron Yaakov, Bat Shlomo and Or Akiva, near the Mediterranean coast south of Haifa. Two rockets fell in that vicinity – the northernmost point that Hamas has succeeded in hitting since the current operation began.
The IDF has attacked over 160 targets in Gaza since the morning. Over 580 targets have been struck since the operation began. Wednesday saw 31 terror tunnels attacked, as well as 60 buried launchers, and other targets including a weapons storage site. Eleven homes of senior Hamas officers that served as command centers were also hit. 
Videos released by the IDF Wednesday show hits on Hamas officers' homes, weapons cahes and other installations. 
Prime Minister Binyamin Netanyahu held security consultations at IDF Southern Command headquarters in Be'er Sheva Wednesday, along with Defense Minister Moshe Yaalon, IDF Chief-of-Staff Lt.-Gen. Benny Gantz and GOC Southern Command Maj.-Gen. Sammy Turgeman.
Following the consultations, Prime Minister Netanyahu said, "We have decided to further increase the assault on Hamas and the terrorist organizations in Gaza. The IDF is prepared for all possibilities. Hamas will pay a heavy price for firing at Israel's citizens. The security of Israel's citizens is our primary consideration. Our military is strong, the home front is steadfast and our people are united. This combination is our response to the terrorist organizations that want to attack us.
"We are all united in the mission to strike at the terrorist organizations and restore quiet. The operation will be expanded and will continue until the firing at our communities stops and quiet is restored."
The IDF is purposely targeting the homes of top Hamas officials, experts said Wednesday. According to commentary on Israeli media, the water supply at the "refugee camp" neighborhood of Shati in Gaza has been cut off by the Israeli attacks. This is seen as personally targeting Hamas "Prime Minister" Ismail Haniya, who lives in Shati.
מערכת כיפת ברזל בפעולה
credit: רויטרס
היערכות כוחות צה"ל סמוך לרצועה
credit: פלאש 90
תקיפות בעזה
credit: פלאש 90
הבית שנפגע מרקטה
credit: באדיבות המועצה האזורית שער הנגב
הבית שנפגע הערב מרקטה
credit: יוני אביאני
הבית שנפגע מרקטה בשער הנגב
credit: יוני אביאני