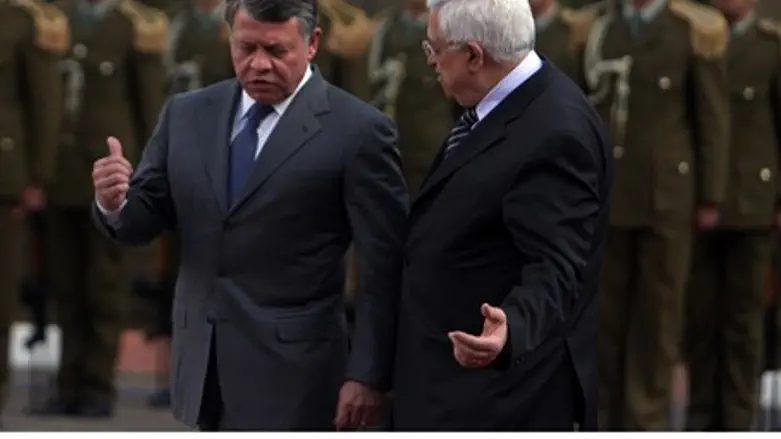 Jordan's King Abdullah and Mahmoud Abbas
Flash 90
Jordan condemned Israel's Operation Protective Edge on Wednesday, calling the mission which aims to stop Hamas from firing hundreds of rockets at Israeli civilians "barbaric." 
Jordanian spokesperson Mohammed Momani said that the airstrikes on Gaza, which reportedly have killed over 20 Gaza residents, including many senior terrorist officials, are "aggressive," reports AFP.
Momani said his country, which signed a peace treaty with Israel in 1994 it has threatened to revoke, "condemns the military aggression that Israel has launched in the Gaza Strip," and calls for "its immediate halt."
The spokesperson further claimed the "barbaric aggression" of Israel has "negative repercussions on the Gaza Strip and the whole region. ...The Israeli actions violate international laws and obstruct peace efforts in the region."
It should be noted that Hamas is using "brutal" tactics to inflate its casualty number, by among other things using human shields and firing on Israeli civilian population centers from within Gaza population centers.
The calls to stop the operation comes on the heels of similar statements by Turkey. On Tuesday, the Turkish foreign ministry called on Israel "to immediately halt its attacks on Gaza."
Turkey called on the international community, and especially the United Nations, to get involved and stop Israel's "collective punishment," asking for "restraint and common sense."
Turkey in 2012 surpassed Iran as the leading sponsor of the terrorist group Hamas. According to Turkish reports, the country in 2010 considered sending warships in a naval invasion of Israel to escort the infamous Mavi Marmara flotilla, possibly triggering a war as a result.
Jordan and Turkey are not alone in their condemnation.
The Arab League on Tuesday called on the UN Security Council to hold an urgent meeting to censure the Israeli defensive operation, and likewise Palestinian Authority (PA) Chairman Mahmoud Abbas on Tuesday night threatened he would turn the international community against Israel if the operation continued.