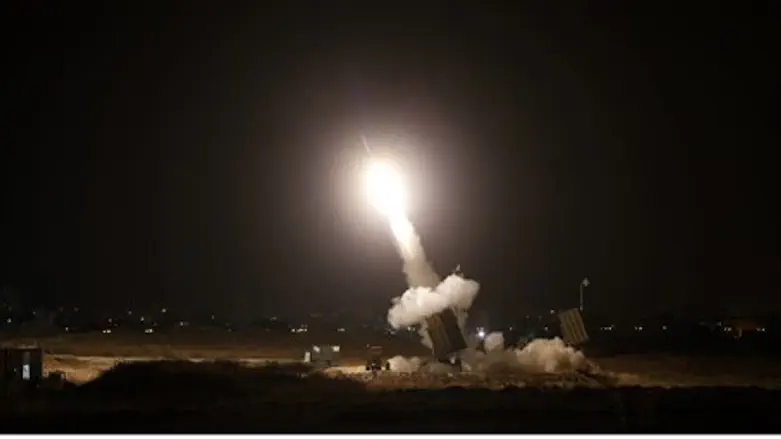 Iron Dome near southern Israeli city of Ashdo
Reuters
Terrorists from Gaza fired a fresh salvo of around 30 rockets at Israel on Tuesday evening, and upped the ante further by striking deeper into the country than before.
Around 11:30 p.m. it was reported that a rocket from Gaza exploded in Hadera, which is located approximately 45 kilometers (28 miles) north of Tel Aviv and south of Haifa.
This would be the furthest point to date that a Gaza rocket has reached.
As well, for the first time since the IDF launched Operation Protective Edge, Color Red air raid sirens sounded in Jerusalem, and residents reported hearing at least three explosions. AFP claims its correspondents in the capital saw "four flashes" in the night sky.
A direct hit was reportedly scored on a house not far from Jerusalem. No one was hurt.
At least one rocket struck the neighborhood of Givat Ze'ev, on the northern outskirts of the city.
Thousands of people attending a concert by singer Berry Sakharof in Jerusalem's Sultan's Pool amphitheatre were evacuated when a siren sounded.
Hamas took responsibility for the attacks, claiming it had launched long-range rockets as far as the northern port city of Haifa, though no reports of explosions in that area have been reported.
"For the first time, the (Ezzedine al-) Qassam Brigades strike Haifa with an R160 rocket, and strike occupied Jerusalem with four M75 rockets and Tel Aviv with four M75 rockets," a statement said, referring to the group's military wing.
It comes after at least two long-range missiles were intercepted over Tel Aviv by the Iron Dome missile defense system, and at roughly the same time as the Jerusalem's municipality took the dramatic step of opening its public bomb shelters.
"The Jerusalem Municipality is preparing for every possible scenario and has decided to open the public bomb shelters across the city over the next few hours," read a statement from Jerusalem Mayor Nir Barkat's office.
A list of shelters will be published shortly on the Jerusalem municipality website, and city officials have recommended residents to open up their own private bomb shelters as well.
The measures are purely precautionary at this point, officials say, and all scheduled municipal events in the capital are still due to take place as schedules.
"In the case of a siren or explosion, residents should go to the closest protected area within a minute and a half and close all doors and windows and stay indoors for 10 minutes," the statement continued. "All residents are asked to continue to listen to instructions from the Home Front Command."
Although most of the more than 130 rockets fired since midnight on Monday night have targeted communities in Israel's southern Negev region, bordering the Hamas-controlled Gaza Strip, Color Red early warning sirens have been heard as far as Beit Shemesh, Tel Aviv, Bnei Brak, Rishon Lezion, Ra'anana, Kfar Saba, Ramat Hasharon and even as far as Gush Etzion.
The latest attack also caused damage to a wedding hall in Ashdod, according to eyewitnesses. The building was not directly hit but was struck by shrapnel from a rocket intercepted by the Iron Dome.
So far, Magen David Adom paramedics have treated six people who suffered light injuries while running towards their protected spaces, and another 32 people who suffered shock.
"Magen David Adom continues to maintain a high level of preparedness and provides a response to every call," the organization said in a statement.