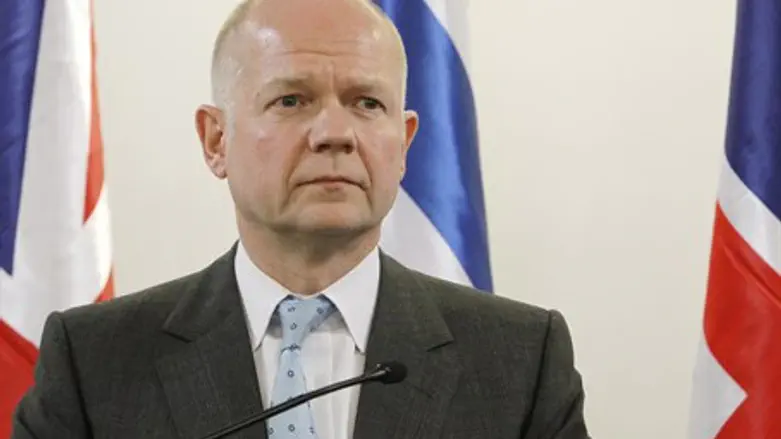 William Hague
Flash 90
Foreign European dignitaries on Tuesday condemned the wave of rocket fire engulfing Israel, after the IDF launched Operation Protective Edge the previous night to squelch the attacks emanating from the Hamas-enclave of Gaza.
British Foreign Secretary William Hague condemned the rocket fire on Israeli civilian population centers, but stopped short of calling those firing the lethal projectiles at citizens "terrorists."
"I condemn the firing of rockets into Israel by Gaza-based militants. The UK calls on Hamas and other militant groups to stop these attacks," stated Hague.
It should be noted that Hamas is on the European Union's (EU) official list of terrorist organizations. That listing specifically includes both "Hamas" and "Hamas-Izz al-Din al-Qassem," meaning that both the military and governmental branches of Hamas are recognized as terror groups by European states.
Also commenting on the situation Tuesday was EU Ambassador to Israel Lars Faaborg-Andersen, who visited southern Israel where he expressed "unreserved solidarity" with the embattled Israeli civilians living under constant rocket fire.
"Indiscriminate shooting of rockets against innocent civilians can never be a legitimate response," said Faaborg-Andersen, without elaborating what the rockets might be a response to.
The EU ambassador appeared to be implying that the escalated rocket fire is a response to the murder of 16-year-old Mohammed Abu Khder, as Hamas has at times insisted. It is thought the teen was murdered in "revenge" for the three Israeli teens Naftali Frenkel, Gilad Sha'ar and Eyal Yifrah, who were murdered by Hamas terrorists on June 12.
Also commenting on the newly launched IDF operation, Amnesty International stated "all sides to the conflict have an absolute obligation under international humanitarian law to protect the lives of civilians caught up in the intensifying hostilities."
Residents of southern Israel have been suffering under indiscriminate rocket fire for over a decade.
The United States likewise issued a statement on the operation on Monday night, condemning the rockets and supporting Israel's right to defend itself, even as it asked Israel to "act with restraint."
Not everyone condemned the rocket fire against Israeli civilians, however; the Arab League on Tuesday called for the UN Security Council to hold an urgent meeting to discuss the IDF operation without even mentioning the rocket barrage.
UN chief Ban Ki-moon Tuesday condemned Gaza rocket attacks on Israel and called on both sides of the conflict to halt their aggressions.
Ban "reiterates his call on all actors to exercise maximum restraint and avoid further civilian casualties and overall destabilization," his spokesman Stephane Dujarric said.
He added that Ban "condemns the recent multiple rocket attacks on Israel from Gaza" and that "these indiscriminate attacks on civilian areas must stop."