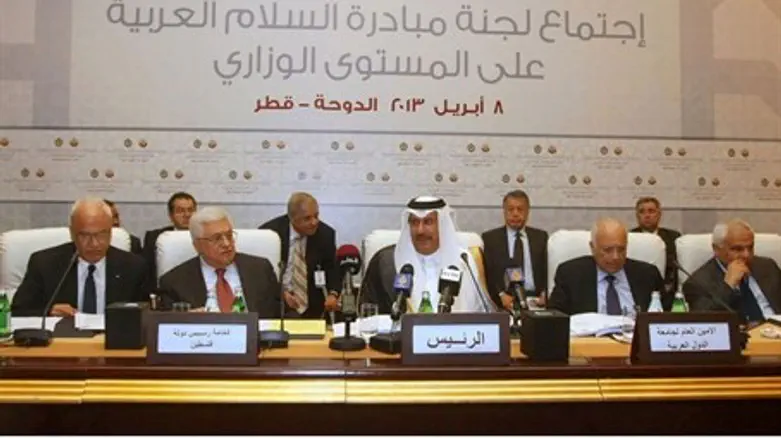 Arab League meeting (file)
AFP photo
The Arab League called Tuesday for the UN Security Council to hold an urgent meeting to discuss the Israel's air campaign against terrorist groups in Gaza, Secretary General Nabil al-Arabi said.
It comes as terrorists in Gaza fired more than 130 rockets at Israeli communities, prompting the Israeli Air Force to response with a series of airstrikes against terrorist positions in the Hamas-ruled territory.
Fourteen people were killed Tuesday and dozens wounded in a number of attacks in the most serious flare-up in and around Gaza since November 2012.
An official from the pan-Arab bloc told AFP Arabi had "instructed the Arab League's UN representative to initiate urgent consultations within the Arab group calling for an emergency security meeting of the Security Council."
Earlier, Palestinian Authority chief Mahmoud Abbas asked the international community to "immediately intervene to halt this dangerous escalation which would lead the region to more destruction and instability."
Arabi said he had been "in touch with president Abbas to follow the latest developments in the Gaza Strip" while also continuing "consultations with Arab foreign ministers on this subject."
He denounced the "dangerous Israeli escalation" and warned against its humanitarian consequences in Gaza.
"The continued attacks on Palestinian civilians by Israel is a flagrant violation of international humanitarian law, the Geneva Convention and international resolutions on occupied Palestine," said the Arab League chief.
Meanwhile, the 57-member Organisation of Islamic Cooperation (OIC), announced it would hold an "extraordinary" ministerial meeting Thursday in the Saudi city of Jeddah to discuss the "intensifying and fierce Israeli campaign against Palestine".
Despite the claims of "attacks on Palestinian civilians", reports from Gaza suggest the majority of those killed were senior Hamas commanders.
In one strike, however, several civilians are believed to be among the dead - after attempting to act as human shields.
Seven people were killed and 25 others wounded in an IAF strike on the home of a Hamas leader in Khan Younis, according to medical sources in Gaza. Witnesses say that an Israeli drone launched a flare to warn civilian residents to evacuate the area - but several neighbors opted instead to flock to the site moments before the missile was launched.
Hamas has vowed "revenge" for the deaths.
The latest casualties came hours after Israel announced the start of Operation Protective Edge, a military campaign aimed at stamping out rocket fire on southern Israel and destroying Hamas's military infrastructure. 
Army figures show that since midnight, terrorists have fired more than 130 rockets at southern Israel, while the air force struck 150 "terror targets" in Gaza.
And in the clearest signs yet of an impending IDF ground offensive, Israel's Security Cabinet approved a request by the army's Chief of Staff to call up 40,000 reservists.