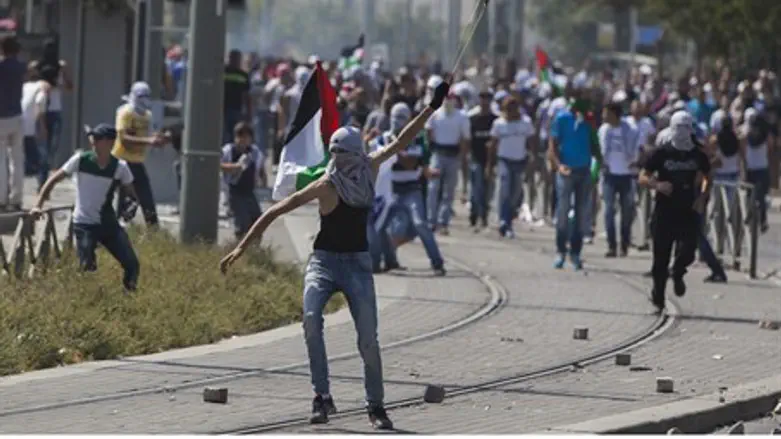 Arab rioters clash with police in Jerusalem
Flash 90
The United States said Saturday it was "profoundly concerned" over reports that a US citizen detained in Israel was "severely beaten" by police whilst taking part in a violent riot in Jerusalem.
State Department spokeswoman Jen Psaki said the United States "strongly condemn(s) any excessive use of force," in the wake of Tariq Khdeir's case.
"We are calling for a speedy, transparent and credible investigation and full accountability for any excessive use of force," she added in a statement.
The alleged incident took place in the Arab neighborhood of Shuafat in Jerusalem Friday, on the third day of riots after the murder of an Arab teenager which Palestinians allege was a "revenge" attack by Jewish extremists for the murder of three Israeli teens, despite police saying no motive has been established yet.
Friday's riots, which spread to Arab towns in the Galilee, took place after the funeral of Mohammed Abu-Khder that morning. Among the dozens of rioters arrested in Jerusalem was Tariq Abu Khder, the 15-year-old cousin of the murdered Palestinian Arab youth, who is also an American citizen and was reportedly "on holiday" at the time.
Speaking to AFP Saturday, his parents said Tariq was arrested in Shuafat after being beaten by police on Thursday.
A video circulated on social media shows what appears to be Israeli border police beating and kicking a handcuffed semi-conscious figure before dragging him away.
Police spokeswoman Luba Samri could not confirm it was Tariq in the video, but said the footage was from the arrest of a group of six Arab rioters, of whom Tariq was one.
Samri said police found a sling on Tariq, who attacked police and resisted arrest, while others were stoning police officers and throwing Molotov cocktails at them.
Samri said six police were wounded during that arrest operation.
Abu Khder will appear before a Jerusalem court on Sunday, his parents said.