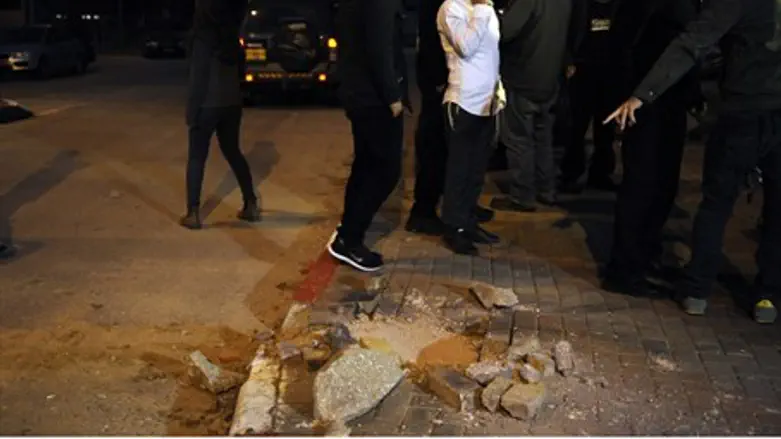 Hole caused by a rocket fired from Gaza
Flash 90
Rocket fire from Gaza onto southern Israel continued on Friday afternoon, amid reports that Egypt is mediating a potential ceasefire between Israel and Hamas.
At least eight Kassam rockets were fired towards Israel during the course of Friday afternoon, among them two rockets that were intercepted by the Iron Dome anti-missile system over the city of Ofakim.
A total of 17 Kassam rockets, Grad rockets and mortar shells have been fired from Gaza since Friday morning.
Two rockets exploded in open areas near Netivot and there were also explosions in open areas in Kerem Shalom, in the Eshkol Regional Council and the Merhavim Regional Council. One rocket caused minor damage in a kibbutz in the Eshkol region.
In addition, a terrorist attack was foiled in central Gaza on Friday afternoon. IDF troops opened fire at two Palestinian Arabs who tried to plant explosives near the Gaza border fence. According to the report, at least one of the terrorists was seriously injured.
Be'er Sheva Mayor Rubik Danilovich criticized the government's conduct on Friday afternoon and expressed his solidarity with the communities in the Gaza belt.
"A sovereign state must maintain its deterrence and protect its citizens everywhere. Our response must not come only following a rocket attack on Be'er Sheva, Ashdod or Tel Aviv," he said.
"Terrorists firing at Sderot and the Gaza belt is severe," added Danilovich. "This is a red line that should not be ignored, just as firing at a large city is not ignored. There are not two states here and certainly not two kinds of populations."
Eshkol Regional Council head Haim Yellin said after the shooting, "Since talk of a ceasefire began, six rockets exploded in our council, two of them in communities. Restraint is a significant tool which shows Israel's strength, but even restraint has a limit. I call on the security cabinet to ensure that the rocket fire stops - not through headlines, but through actions."
Earlier Friday, Foreign Minister Avigdor Liberman (Yisrael Beytenu) criticized the possibility of a ceasefire as rocket fire continues.
"These quiet messages we send to Hamas offering a ceasefire are a huge mistake," Liberman said Friday while visiting the city of Sderot. "Answering this [terror] with silence is a serious mistake and we in Yisrael Beytenu reject this approach."
(Arutz Sheva's North American Desk is keeping you updated until the start of Shabbat in New York. The time posted automatically on all Arutz Sheva articles, however, is Israeli time.)