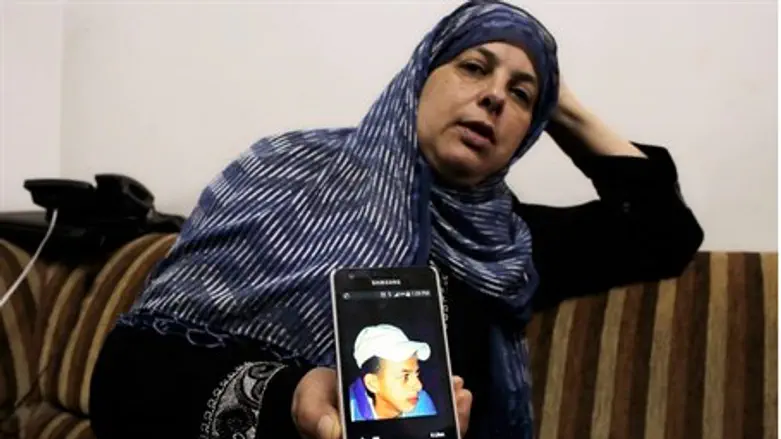 Suha Khder, mother of murdered teen Mohammed,
Reuters
The mother of murdered 16 year-old Arab teen Mohammed Abu Khder is in the spotlight again Friday, this time for supporting "revenge" on Israelis in the form of violent rioting and a barrage of rockets from Gaza.  
The mother of the boy said in a newspaper interview that the rise in Arab terror demonstrates "concern for the Palestinian people" following the murder to "protect" against more "abductions by Israelis," despite the lack of any evidence that her son was abducted by Israelis.
She added that the rioting, which has included multiple incidents of suspected arson, injuring IDF soldiers and Israeli press officials, and burning the Jerusalem Light Rail, are a form of the Palestinian Arabs "exercising their rights."
Rioting and unrest have exploded in Jerusalem since Wednesday in reaction to the murder of Abu Khder, who was found in the Jerusalem Forest that morning after allegedly being forced into a black car outside the neighborhood of Beit Hanina. 
Israeli leaders - including the mayor of Jerusalem and Prime Minister Netanyahu - rushed to condemn the murder, after rumors circulated that it was the work of Jewish extremists looking for "revenge" over the abduction and murder of three Israeli teens Naftali Frenkel, Gilad Sha'ar and Eyal Yifrah. 
Palestinian Authority (PA) Chairman Mahmoud Abbas, as well as some in the international media, have since repeated those claims as fact.
However, police themselves stressed they are focusing on all lines of inquiry, and urged people to "act responsibly" in not jumping to conclusions. Since then, doubts have been raised over the "revenge" theory; for example, it was recently revealed that there have been conflicting testimonies from the boy's own parents about a previous alleged abduction reported the night before the murder, in which his mother said the assailants were Jews, while the father insisted they were Arabs.
Meanwhile, the situation has been worsening throughout the week, with rioters throwing pipe bombs, Molotov cocktails, and rocks at Israeli forces and the press and shouting anti-Semitic chants. 
In addition, roughly 40 rockets have been fired from Gaza into Israel since Wednesday, with Hamas declaring late Thursday that they are "not afraid" of threats of IAF retaliation.