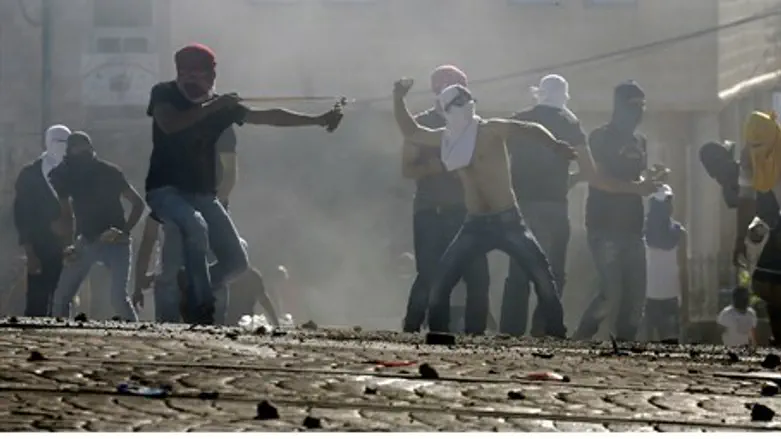 Arab rioting (illustration)
Flash 90
Jerusalem has taken the brunt of Arab rioting since the body of an Arab youth was found murdered on Wednesday, with violent Arab mobs attacking police with rocks and firebombs and destroying three Light Rail stations.
Video evidence reveals the rioting is just as bad in the city of Shechem (Nablus) in Samaria.
The film shows on Wednesday night how numerous violent Arab rioters fearlessly approached IDF vehicles patrolling the city, getting within hands reach while pelting them with rocks and firebombs.
At one point in the shocking footage, an IDF vehicle that apparently stalled or had its tires damaged can be seen. Soldiers hop out to fix the vehicle while evading the potentially lethal hail of rocks and objects before quickly hopping back in.
The emboldened rioters are seen approaching the vehicle to the point where they pound rocks on it by hand and attempt to open it to get at the soldiers inside, before reinforcements fire a smoke grenade to disperse the violent mob.
The upswing in violence comes after the body of abducted 16-year-old Mohammed Abu Khder was found burned in the Jerusalem Forest, sparking claims of Jewish "revenge" for the murders of the three Israeli teens Eyal Yifrah, Naftali Frenkel and Gilad Sha'ar.
Israeli and international condemnation of the attack gave further life to the theory despite the lack of evidence supporting it, and Palestinian Authority (PA) Chairman Mahmoud Abbas's Fatah party called for a violent "revolution" in response.
However, great doubt was cast on the "revenge" theory after a Channel Two report noted Abu-Khder's parents gave conflicting testimony to police over an alleged attempted kidnapping of their younger son the day before. Mohammed's mother claimed that "settlers" had attempted to snatch the boy, while the father insisted the assailants were in fact Arabs.
A senior former police official told Arutz Sheva on Wednesday that the Abu-Khder family is known to the police as a "problematic" family with severe internal conflicts, saying "I have no doubt that as time passes it will be clarified that the murder was criminal and nothing more."
Gil Ronen contributed to this article.