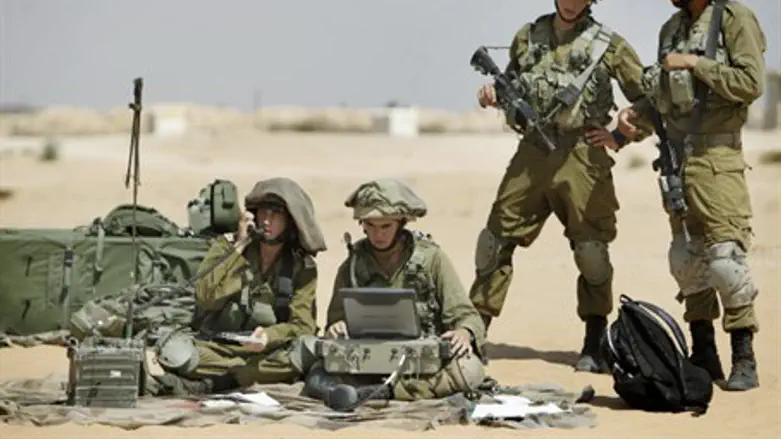 IDF training drill
Flash 90
Palestinian sources cited by Walla reported that Israel has delivered an ultimatum to Hamas to stop rocket fire from Gaza within 48 hours. Otherwise, Israel warned, it intends to launch an attack on Gaza.
The sources said that the threat was delivered by Egyptian Intelligence to the head of Hamas's political bureau, Musa Abu Marzuk, who is in Cairo.
Meanwhile, Prime Minister Binyamin Netanyahu said at a Fourth of July reception at the US Ambassador's residence that Israel is preparing for two possibilities. "One – that the fire will stop and then our operations will also stop; and the second, that the fire will continue and then our forces will act forcefully."
"We are looking for calm, not escalation, but if Hamas chooses to act against us, we shall be ready," IDF Chief of Staff Lieutenant General Benny Gantz said in remarks tweeted by the army.
But in Gaza, the Ezzedine al-Qassam Brigades, the military wing of Hamas, warned Israel to wind down its Gaza air strikes and widespread arrests in Judea and Samaria – mainly of Hamas members.
"What the enemy is doing in the West Bank and Gaza... adds fuel to the fire of confrontation," spokesman Abu Obeida told a press conference.
"Idiotic measures by your leaders will be enough for us to turn your localities and sites...into embers."
Over 15 rockets, part of the roughly 40 that have been fired from Gaza in the last two days, were fired at southern Israel in a salvo Thursday afternoon, causing two fires to break out.
One of the rockets fell right next to a kibbutz in the Sha'ar Hanegev Regional Council area, and another exploded in the Sderot industrial area. Fires broke out in both areas, reports Ynet.
Within an hour of the rockets, around 14 mortar shells from Gaza exploded in the Eshkol Regional Council area, leaving an IDF soldier with mild wounds after taking shrapnel to the leg.
A short time later another three rockets fell in the Eshkol Regional Council area, and three mortars reportedly hit a town in the area as well.