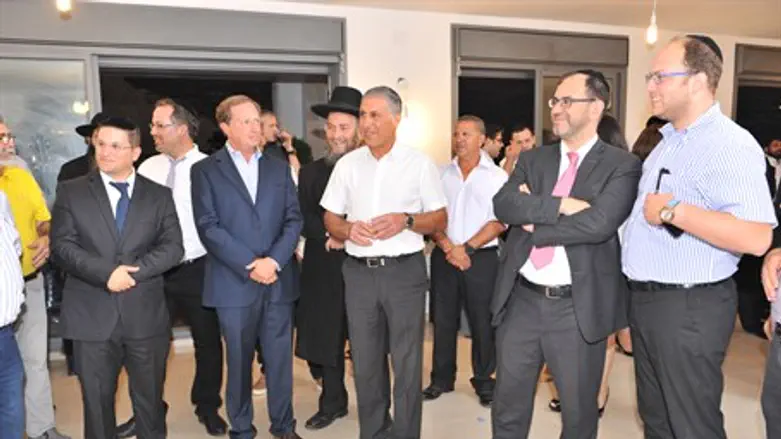 A watershed moment for American Aliyah to Jer
Nofei Israel
Many public figures attended a ceremony held last week to mark the receipt of building permits and the beginning of construction of the Ramat Givat Zeev neighborhood - a new neighborhood geared specifically for American citizens in Israel. The event took place in a beautiful model apartment located on the slopes of the hill where the popular neighborhood will be built.
The building permits were just recently issued, after extensive efforts by ministers and MKs lobbying the prime minister to provide the permits immediately were successful. The developers were extremely pleased when the permits were issued - as were the hundreds of buyers from the United States, who are waiting for their opportunity to realize the dream of aliyah and living in the first neighborhood in Israel built especially for olim from North America.
Among others, the ceremony was attended by Housing and Construction Minister Uri Ariel, who has been very active in obtaining the permits for the neighborhood; MK Rabbi Meir Porush (UTJ), who was also instrumental in finalizing the permits; the head of the Givat Zeev council, Mr. Yossi Avrahami; the former head of the Yesha Council, Zev Chever "Zambish", dignitaries from the American Jewish Congress, journalists and more.
Housing and Construction Minister Uri Ariel emphasized that "Ramat Givat Zeev is an integral part of the State of Israel, and the neighborhood has become a very desirable destination for foreign residents because it provides a solution for a community seeking to live near Jerusalem in an environment that suits their lifestyle."
MK Rabbi Meir Porush said that he believes Ramat Givat Zeev is the ideal location for new olim, who seek to make aliyah and maintain a high standard of living. Rabbi Porush emphasized that "there is no better place that can be suggested to olim than Ramat Givat Zeev."
The ceremony marks a milestone for the neighborhood and the beginning of the realization of a dream. The neighborhood has been warmly received by the Orthodox community in the United States, and several hundred families have already purchased luxury homes there.
Ramat Givat Zeev is the flagship project of Chish Nofei Israel. Many rabbis in the United States have classified it as the most suitable way to realize the dream of American residents seeking to make aliyah.
The project offers exclusive advantages to ensure optimal absorption to new residents, with emphasis on the creation of a warm, homogeneous community that includes a plethora of schools and community institutions that are suited for the lifestyle of the residents.
The Ramat Givat Zeev neighborhood offers a luxurious living experience with rich technical specifications in each home, spacious parks and shopping centers. Likewise, the neighborhood, located just north of Jerusalem, combines a suburban, peaceful environment with breathtaking views of the Jerusalem Hills, while still remaining close to the center of the capital city.
Now that building permits are in place, construction is expected to being very shortly.