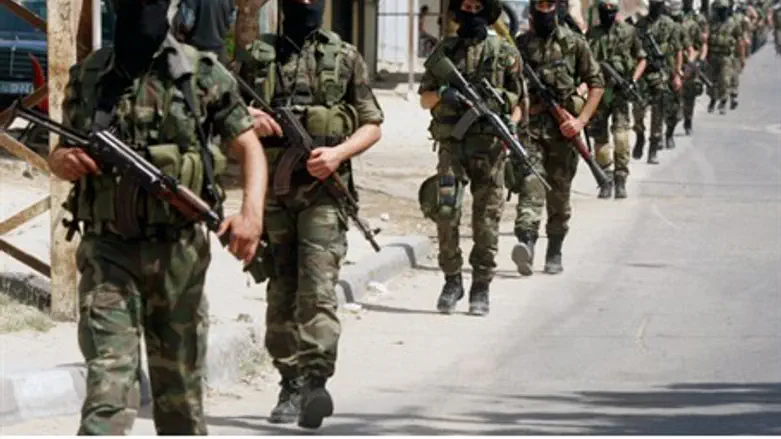 Hamas terrorists
Flash 90
Despite Wednesday's riots by Arabs in Jerusalem, the IDF continued with its campaign of searching for the murderers of Israeli teens Eyal Yifrah, Naftali Frenkel, and Gilad Sha'ar, and dismantling the infrastructure of Hamas, the terror group responsible for the kidnapping and murder of the teens.
Overnight Wednesday, the IDF said that it had arrested 13 terror suspects. Among them was Imad Nofal, a Hamas member of the Palestinian Authority parliament. Nofal was arrested in Kalkilye, an Arab city near Kfar Sava. In addition, the IDF said, it had closed down two Hamas institutions in the Hevron area which collected money from "donors" and using it for terror purposes.
Israel Air Force (IAF) aircraft targeted 15 terror sites in Gaza on Wednesday night. According to the IDF Spokesperson's Unit, the airstrikes targeted concealed rocket launchers, training compounds and weapons storage sites, all of which belong to the Hamas terrorist group.
The statement said that the airstrikes were in retaliation for the latest escalation in rocket attacks on southern Israel. "The IDF is prepared to defend the citizens of Israel from any threat and will continue to act decisively and as long as necessary until peace is restored," said the IDF, noting that Hamas is directly responsible for the ongoing rocket fire.
A barrage of at least 20 rocketswere fired at southern Israel on Wednesday, and three more were fired on Wednesday night. On Thursday morning, at least eight more rockets were fired at Israel, with one hitting a building in Sderot used as a day camp for children. Miraculously, no one was injured, but there was extensive damage to the building.