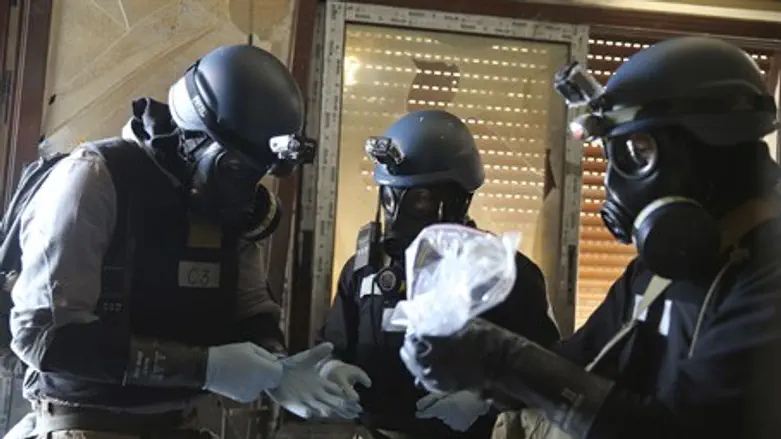 UN chemical weapons experts in Syria
Reuters
The international operation to destroy Syrian chemical weapons entered its final phase on Wednesday, with the stockpile being loaded onto a U.S. military ship equipped to dispose of them.
According to AFP, hundreds of tons of mustard gas and ingredients to make Sarin nerve gas were transferred from a Danish freighter in the southern Italian port of Gioia Tauro amid tight security.
An exclusion zone was set up around the port in the Reggio Calabria region as the vessels moored stern-to-stern, and the containers were moved from one ship to the other by crane and a vast climbing platform.
"For now everything is going well. We have put in a huge amount of effort... to manage the transfer operation smoothly," Italy's Environment Minister Gian Luca Galletti said on Twitter as he watched over the delicate procedure.
Officials at the scene said between six and seven containers were being loaded onto the MV Cape Ray per hour, with 62 of the 78 on board by late afternoon. Once the chemical agents have been safely transferred, they will be destroyed in international waters.
The MV Cape Ray arrived on Tuesday in Italy and has been fitted with two machines designed to neutralize the most toxic chemicals.
The disposal process marks the culmination of a program to rid Syria of its chemical weapons stockpile after the outcry that followed chemical attacks by the Assad regime in the suburbs of Damascus on August 23 last year, that may have killed as many as 1,400 people.
The transfer and disposal of the weapons and materials "could open up new possibilities for disarmament and non-proliferation in the region," Italian Foreign Minister Federica Mogherini said, according to AFP.
Last week, after Syria missed several deadlines in the plan to move all of its declared chemical substances and precursors out of the country, the Organization for the Prohibition of Chemical Weapons announced that the final stockpile of Syria's chemical weapons had been shipped out of the country.