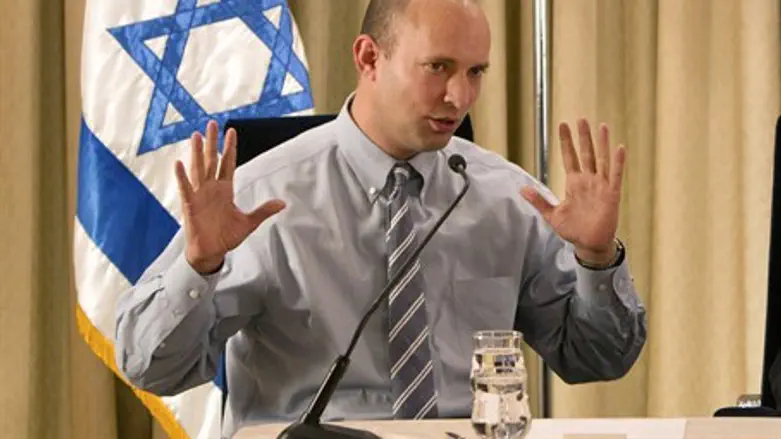 Minister Naftali Bennett
Reuters
The Palestinian Authority (PA) government on Tuesday condemned Economy Minister and Jewish Home chairman Naftali Bennett as "racist", Army Radio reported.
In a statement cited by the station, the PA government condemned Israel over its military operations in Judea and Samaria following the kidnapping and murder of three Israeli teenagers.
The statement said that "the statements made by Minister Naftali Bennett are racist" and accused the Israeli government of incitement to murder of Palestinian Arabs.
"While we announced that we are committed to the agreements with Israel, the Israeli government boycotted the Palestinian government and imposed additional penalties on us," it said.
The statement did not mention any specific statements by Bennett which amount to "racism" nor did it mention the murder of the three Israelis.
The comments came amid reports that PA Chairman Mahmoud Abbas was conducting "feverish" communications with the United States and other countries, to pressure Israel not to launch a large scale operation in response to the murder of the three youths. He has reportedly transmitted a message of this nature to Israel through the Americans.
Meanwhile, according to Army Radio, Hamas spokesman Sami Abu Zuhri clarified on Tuesday that Hamas was not interested in a confrontation with Israel.
"Hamas is not a superpower that can wage war with Israel, the implications and effects of which our people would pay," he said.
Abu Zuhri denied that the teens were kidnapped and said that the only source for the news about the kidnapping was the Israeli media.
"The occupation is trying to cling to it as a pretext for an escalation against the Palestinian people and against Hamas," he claimed.