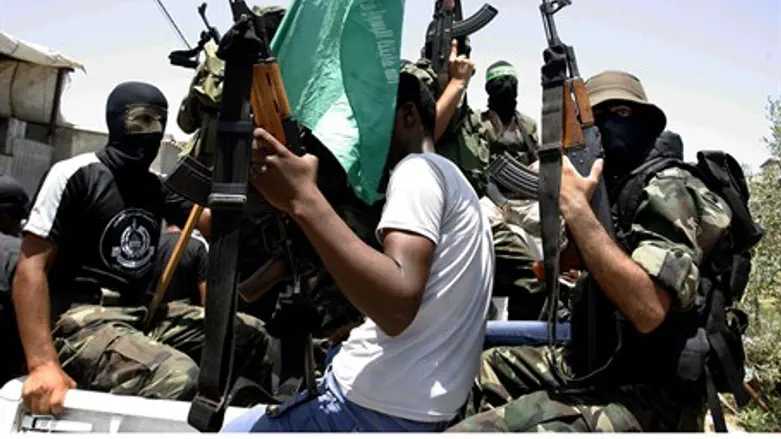 Hamas terrorists
Flash 90
A Hamas spokesperson on Tuesday released a statement just after the funeral of Eyal Yifrah (19), Naftali Frenkel (16) and Gilad Sha'ar (16), who were kidnapped and murdered by Hamas terrorists.
Mushir al-Masri, the spokesperson, labeled the abduction as "an activity that failed," reports Channel 10.
While the statement sounds like an admission, al-Masri did not take responsibility for the murder.
All the same, he did emphasize that in the future, Hamas will take further steps against Israel to "balance" the crackdown the IDF has been conducting on Hamas's terror infrastructure in Judea and Samaria.
Israeli security forces have already identified the two main Hamas terrorists behind the abduction and murder as Marwan Kawasmeh and Amar Abu-Eisha, and is currently hunting to track them down.
As far as the abduction "failing," reports coming after the bodies of the three teens were found on Monday indicate they were murdered shortly after the kidnapping.
In the chilling recording of Sha'ar's frantic last call to the police emergency 100 hotline, which was released on Tuesday, the terrorist kidnappers can be heard noticing that Sha'ar had called the police, after which shots ring out amid an apparent struggle as the boys cry out in pain.
The evidence would seem to suggest the kidnappers realized the police had been contacted and decided to murder the teenagers on the spot. It is not yet known whether they had initially meant to keep them alive in the hope of bartering them in exchange for jailed terrorists, However, many analysts estimate the terrorists always planned to murder the youths - particularly since it would have been near impossible for two people to control and hide three young captives for a prolonged period of time - but were simply forced to act sooner after the call to police was made.
Blood and spent bullet casings were discovered in the burned-out car they used, which was found shortly after the kidnapping.
As for the "additional steps" against Israel, there has already been a dramatic upsurge in rocket fire from the Hamas-enclave of Gaza since the kidnapping, which has notably peaked this week.
After 15 rockets were fired over Sunday night and Monday morning from Gaza, Israeli security forces announced Hamas was directly behind the rocket fire, reportedly marking a first since the end of the counter-terror Operation Pillar of Defense in November 2012. Hamas has not taken responsibility for the rocket fire officially.
While there has been a steady stream of rocket fire even since the Operation Pillar of Defense "ceasefire" that was brokered by Egypt, the Gaza-based Islamic Jihad terror group and terrorist factions other than Hamas have largely claimed the attacks, with Hamas simply turning a blind eye.