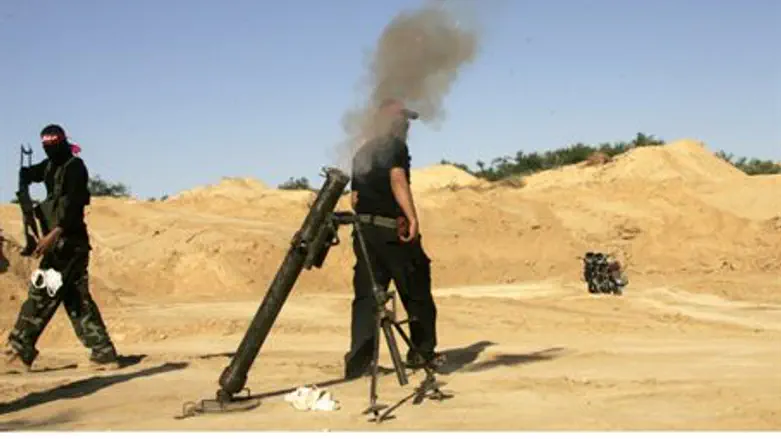 Terrorists fire mortar shells
Israel news photo: Flash 90
Gaza terrorists continued their assault on southern Israel on Monday night, firing two mortar shells towards the Eshkol region.
One of the shells exploded inside a community, causing damage to a building. One woman was treated for shock.
The second shell exploded in an open region, causing no physical injuries or damages.
The mortar shell attack occurred just hours after terrorists fired a rocket towards the same region.
The rocket exploded in an open area. There were no physical injuries or damages.
Rocket and mortar attacks have been on the rise since three Israeli teenagers were kidnapped by Hamas terrorists on June 12.
A total of 15 rockets were fired at Israel by Gaza terrorists overnight Sunday and on Monday morning.
In the early morning eight rockets fell in uninhabited areas in the Eshkol Regional Council area; no injuries or damage was caused by the blasts. That followed at least two rockets which were fired on the Eshkol region overnight.
Security sources announced on Monday that Hamas was directly responsible for the recent rocket fire, in contrast to earlier rocket attacks which were claimed by the Islamic Jihad terror group and other terrorist factions operating in Gaza.
Prime Minister Binyamin Netanyahu responded to the barrage of 15 rockets, saying, "We are defending ourselves from the (rocket) firing attempts and firing towards Israel; yesterday we hit a Hamas terror cell that fired rockets."