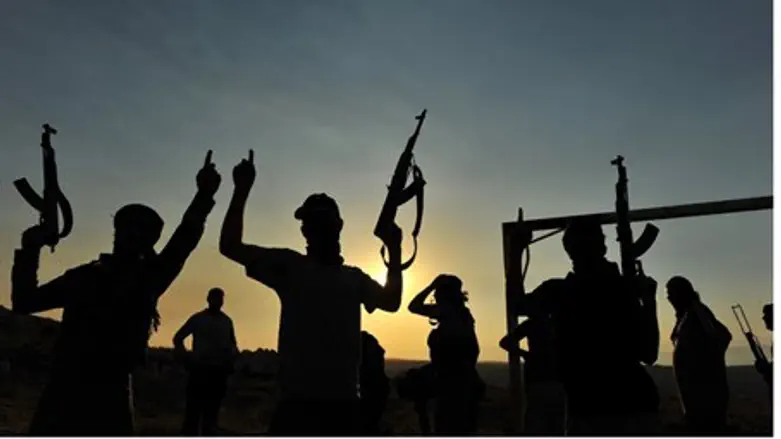 Jihadists
AFP photo
The Islamic State of Iraq and the Levant (ISIS) on Friday executed and crucified one of its own men for corruption in Syria, a watchdog and jihadist sites said, according to AFP.
Photographs posted on websites showed the body and bloodied head of a bearded man with a placard reading: "Guilty: Abu Adnan al-Anadali. Sentence: execution and three days of crucifixion. Motive: extorting money at checkpoints by accusing drivers of apostasy."
The text is signed by "The prince of believers," thought to refer to ISIS chief Abu Baqr al-Baghdadi.
Before being crucified, the man was killed by three bullets to the head at Bab in the north of Aleppo province, the Syrian Observatory for Human Rights told AFP.
ISIS, the most radical jihadist group fighting in Syria, has been accused of countless atrocities since joining the civil war. These include torturing and murdering prisoners, among them children and teenagers, and forcing Druze men to convert to Islam or die.
Earlier this month, ISIS killed a 102-year-old man along with his whole family. In one case, members of the group beheaded a person they said was a member of an Iraqi Shiite militia fighting for Assad, only to discover they had accidentally beheaded a fighter belonging to an allied rebel group.
In March, the group live-tweeted the amputation of a hand of a man charged with theft in the northern province of Aleppo.
Over the past few weeks, ISIS has expanded its operations in Iraq, taking over several cities in the country and causing alarm over a possible regional war.
(Arutz Sheva's North American Desk is keeping you updated until the start of Shabbat in New York. The time posted automatically on all Arutz Sheva articles, however, is Israeli time.)