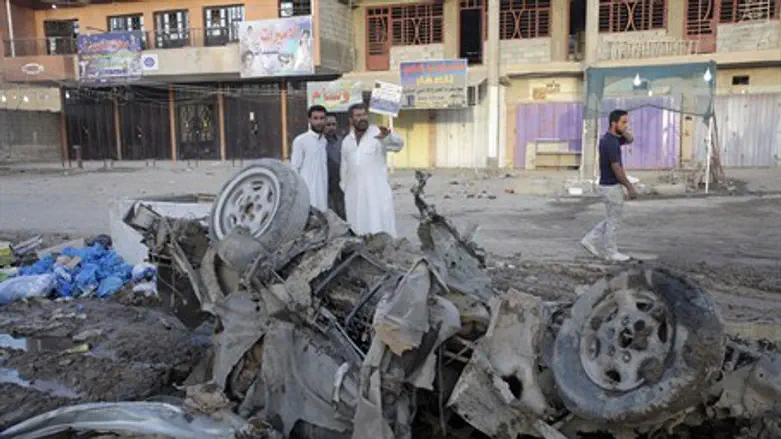 Aftermath of a suicide bombing (illustration)
Reuters
A suicide bomber blew himself up in his room at a Beirut hotel Wednesday as Lebanese security forces raided the premises, causing an explosion that sent flames and a dark cloud of black smoke billowing out of the third-floor windows, security officials said, according to The Associated Press (AP).
The blast toward the end of evening rush-hour took place inside the Duroy Hotel in Beirut's Raouche district, a posh neighborhood of apartment towers and upscale hotels perched on cliffs overlooking the Mediterranean Sea.
Lebanese security forces, who detained a second suspected bomber in the sweep, sealed off the area around the hotel and armed gunmen fanned out on the street to secure the location, according to the report.
"General security was conducting a raid and were able to arrest one suspect, while another blew himself up," Lebanon's military prosecutor, Saqr Saqr, told reporters at the scene.
"Three general security officers were wounded. An operation is underway at the hotel. Every room is being searched to see if there are more explosives."
Lebanese Interior Minister Nohad Machnouk said the raid was a "preventative strike" by authorities, and that the "suicide bomber was going to detonate himself elsewhere and they managed to stop him."
He added the suspect in custody was wounded, and is currently under guard at American University Hospital in Beirut.
Lebanon has been plagued by a series of terrorist attacks and sectarian violence. On Monday, a car bomb blew up outside a café near a Lebanese army checkpoint in Beirut while people were inside watching World Cup games.
A suicide bombing at a police checkpoint on the Beirut-Damascus highway last Friday killed a police officer and wounded 33 people.
The bombings, coupled with the detention last Friday in Beirut of people accused of being part of alleged Sunni extremist sleeper cells, have given rise to concerns that Lebanon could see a new wave of violence linked to the Syrian conflict.
Hezbollah's strongholds in Lebanon have been the targets of repeated attacks ever since the group acknowledged sending fighters into Syria to support President Bashar Al-Assad's troops as they battle rebels.
Bombings have also hit the mainly Sunni northern city of Tripoli, and ongoing fighting in that city between rival militias supporting different sides in the Syrian civil war have killed scores more.