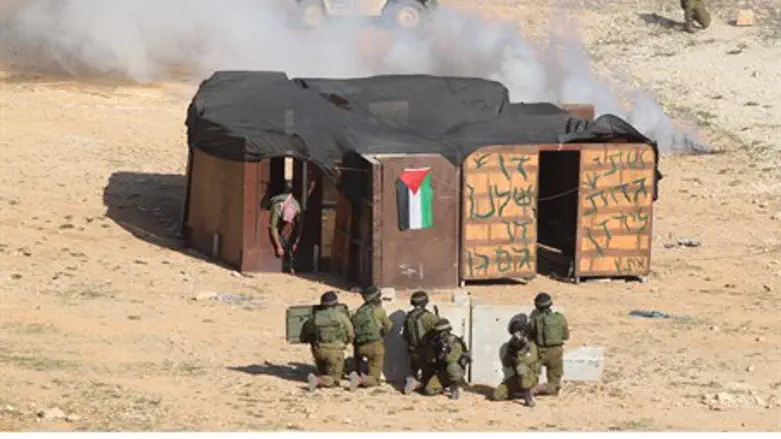 IDF drill (illustration)
Flash 90
The IDF will be holding a drill in the Gaza Belt, as the region of communities surrounding Gaza is known, on Wednesday morning at 10 a.m.
As part of the drill, there is to be heavy traffic by security vehicles and aircraft, and the sounds of explosions will likely be heard, reports Walla!.
The public is advised not to be alarmed, given that the events are part of the drill. In the case of a real security incident occurring during the drill, residents will be given instructions by security forces.
The IDF Spokesperson Unit emphasizes that the drill was planned in advance and is meant to preserve the level of skill and preparedness among the forces.
Gaza terrorists have launched at least 20 missile attacks since the three Israeli teenagers were kidnapped by Hamas terrorists two weeks ago, and 200 rockets since the beginning of the year.
Just yesterday (Tuesday) four rockets were fired, the fourth of which landed on a town in the Sedot Negev Regional Council area of the Gaza Envelope. No damage was reported from the attack.
The first two of the four rockets were shot down by the Iron Dome anti-missile defense system, while the third misfired and landed in Gaza, killing a three-year-old Arab girl and wounding three.
In response to the latest rocket barrage, the IAF conducted airstrikes on Tuesday night, targeting five concealed rocket launchers in northern Gaza, a terrorist center in central Gaza and a weapons manufacturing site in southern Gaza.
Tamir Idan, head of the Sedot Negev Regional Council where the rocket fell on Tuesday, responded by saying "this incident emphasizes the great importance of security concentration in the Gaza Belt communities."